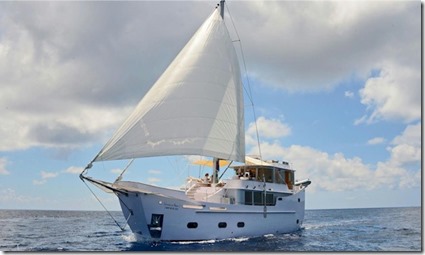 Beloved Wives Day today (husbands in China must shout out declarations of love to their wives). And I am taking my beloved wife, Lori, for a quick escape from English wind, rain and cold. Down to the French Riviera for some friends' New Years celebration and a quick stay in Monaco. The sunny Med shores have made them a magnet for yachts from all over the world.
One yacht that won't be straying quite that far from home is Soneva Fushi's new concept "suite" – "Soneva In Aqua". A sort of mobile "water villa". Great to see this concept revised every since the demise of The Rania Experience and Dhoni Island. Of course, the resort will provide the crew you need. Not the only boat villa in the Maldives (eg. Conrad Rangali's "Goma", LUX Maldives "Kokomo"), but the distinctive in its modern styling and spacious accommodation..
"Soneva In Aqua will further elevate guest experience by offering the option of a boat villa which will combine all the benefits of this iconic resort's services and amenities with the freedom and exclusivity associated with a private boat charter."
LORI, MY LOVE FOR YOU IS AS WARM AS THE MALDIVIAN OCEAN BREEZES AND MY PASSION AS HOT AS ITS TROPICAL SUN!!