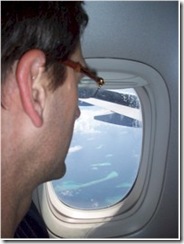 Hmmm. For the longest time I swore off booking separate resort bookings and commercial flight bookings. Such an approach gave one much more flexibility, but I could never get a deal that matched the complete package prices and the fine service of the tour operators. They got (a) special pricing from the resorts, and (b) flew cut rate charters like Monarch. Furthermore, my loyalty was secured a few years ago by great customer service from Kuoni. The Iraq War had started messing up air space in the Middle East and wreaking havoc with the flights. It could have been a situation of high stress and inconvenience (waiting interminably at Male airport). Instead, the local Kuoni rep was on top of everything and called us to reassure us and tell us to just relax by the pool until the update plans were sorted. It turned a potentially stressed situation into an extra free day of holiday and earned us loyalty for life.
This time, however, we were finding it difficult to locate a deal that left and returned on days which suited the somewhat less flexible family members this go around. The clincher was BAs new direct service to Male which I am flying on as I write this sentence. Today's flight is the third one flown as it was just launched this week. BA has a number of attractive deals which made the flight portion reasonably attractive – about £500 per person.
That just meant finding a resort. I thought that this would be the easy part and was stunned at how difficult it was. First the web sites. Amazing how clumsy, awkward and difficult many of the resort's websites were to book dates. I quickly abandoned this approach and thanks to Skype could make inexpensive phone calls to speak directly to a human being. This is where the language barrier came in. The Maldivian (and other nationality staff who often work at resorts) speak fine English for basic questions on familiar areas ("where is the restaurant?", "how do I book and excursion?"). For more complicated subjects like discussing booking options, the conversations actually became quite laboured. In the end, I turned to Destinology which was recommended by a TripAdvisor forum member. They provided excellent service in finding a great rate for a resort and sorting out all the paperwork and logistics (eg. transfers to the island).
We are going to the 5-star resort Kurumba which also came to about £500 per person for room and board. So the whole deal comes to about £1000 per person (closer to £1200 when all the taxes, charges, etc. are loaded in) which is about a low a price as I could find for any resort. And those other resorts had a lot more constraints when I was researching the package route.
Now that I am on the BA flight, I'm not sure I will ever do package again. If the prices can stay comparable and the web makes the booking logistics relatively easy, then the commercial flight is soooo much better. More comfy seats, more service (advance online check in – no queues), frequent flyer points, in flight on-demand entertainment, amenities, free snacks and drinks. The whole experience is more relaxed and comfortable.