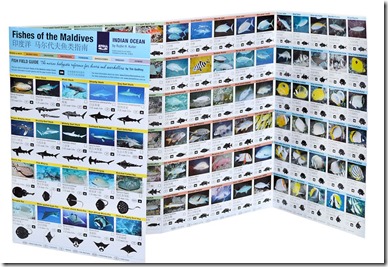 Speaking of spotting things in the Maldives, one of the obligatory resources for any avid snorkeler or diver is a good fish guide. They come in books, but one of the popular variants is the "Fish Identification Card." A handy piece of piece of laminate packed with fish (and sometimes other things like corals and animals or even birds). Veteran marine life maven Tim Godfrey has collaborated with Rudie H. Kuiter to come out with one which is in a league of its own.
Publisher Atoll Editions describes…
"Small and perfectly formed, this Fish Field Guide will let you locate species you have just seen underwater. The fish are depicted through both photography and silhouette icons to help you identify these diverse and beautiful creatures. The approximate length, common names, latin names, and distribution information are all easily located. There is even a tick box so you remember exactly what you have seen on each dive trip."
For starters, it is a tri-fold 8-pages instead of the usually 2-sided card. Secondly, the fish are neatly arranged in a grid for maximum density. Most of these cards are quite a hodgepodge of pictures just scattered and packed in. So there are more creatures featured than any other ID card (240 in all).
But its not just the quantity, but also the quality that excels so much…
Photos – Most cards use drawings which always seems to be just a little bit off in their representation and we often are not quite sure if what we saw was the fish on the card. Tim's guide uses actually photographs for more realistic illustrations.
Silhouette – If the photos weren't enough, Tim adds a silhouette of each species shown. While markings can be very similar from fish to fish, often the distinctive differences are evidence in their outlines (eg. fin size and position ,etc.).
Book Reference – If that information is not enough for you, then Tim's a page number reference to his companion book "

Fishes of the Maldives Indian Ocean

" so you an easily find the suspect critter and read more about him.

Marker – My favourite bit of all is a just a very little bit. A small square for you to mark off a sighting. So now you can track your

Snorkel Spottings

on your own personal log as well as

on Maldives Complete

. I feared that with the slick plastic a pen wouldn't easily mark it, but I tried a simple ball point and it worked just fine.
Happy hunting holidayers!