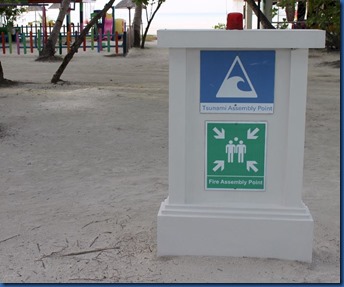 While Brits tuck into Christmas turkey leftovers and start jigsaw puzzles brought by Santa, today marks one of the biggest natural disasters in modern history and the biggest in Maldives history – the 2004 Tsunami. The tragedy touched every corner of the country and devastated a number of inhabited islands and resorts.
One silver lining was the opening up of country's economy and politics in the aftermath. Maldives desperately need outside assistance to rebuild and the international funds stepped up but only on the condition that the country reformed some of its institutions. For example, the first democratic elections were held for decades.
One resort hit hard was Cinnamon Hakuraa Huraa who lost its General Manager. In the aftermath, the resort set up "Tsunami Assembly Point", akin to "Fire Assembly Points" for which they double as, which help the staff more quickly identify who is safe and who is missing and maybe in need of assistance.
I remember people asking me if it was safe to visit the Maldives for fear of tsunamis. For starters, such an occurance is a once in a lifetime event. And while, lighting does strike twice, the odds are so small that you are much likely to be hurt by a commonplace incident (like a car accident on the way to the airport) than any tsunamis. Furthermore, the world has learned an enormous amount and also invested considerably in anticipating (early warning systems) and responding to (things like this assembly point) ocean tsunamis even if their remote chance of happening does occur. So the danger is even more miniscule than it was before.
When I came across the assembly point, I thought it was not just an extra-careful precaution, but also a very subtle and tasteful monument to the people who sadly suffered from this bizarre calamity.