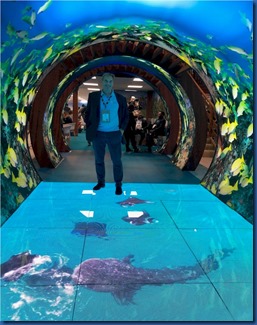 As the days get colder, wetter and shorter, one of my favourite days of the year in the UK is my annual visit to the World Travel Market in London where I hang out at the Maldives destination stand all for a bit of a surrogate Maldivian experience. The Maldivians staffing the exhibit surrounded by Maldives imagery provides just enough of a sense of the Maldives itself to take some of the sting out of encroaching winter. And the video tunnel of swimming whale sharks and mantas provided an extra touch of virtual reality to the escapist experience (video at bottom).
And this year's stand was the biggest one yet. Check out the photo below which shows the entire length as everything in the picture is the booth. I spoke to countless resort reps including Madifushi Private Islannd, Robinson, Pullman Maamuta, Hilton Amingiri, Kuda Villingili, Amilla, Fiyavalhu Westin, Heritance Araah, South Palm, Ihuru. Riu Palace/Atoll, Brennia Kottafaru, Alia Kothifaru, Oaga.
I got media kits to fill out Resort and Room profiles for the site s well as discovered a number of great "Best of the Maldives" features to post about in the coming weeks. Two of the notable chats included:
Havodda – a BIG question these days is "where is the best coral?" It's difficult for even veterans like myself to answer because all of our coral experience pre-2016 (with the COTS and El Nino double whammy on top of increased ocean temps and construction disturbance) is pretty much moot. My recent research has been pointing to Gaafu Alifu/Gaafu Dhaalu as one of the brightest spots for coral based both on reports, but also on the topology that this atoll is very wide open with fewer outer shelf reefs so there is more flow of cooler open-ocean water. Chatting about this with some folks, they also noted that the Gaafus are the deepest atolls which also contribute to cooler (more coral-friendly) waters there and they confirmed that this atoll probably does have the best coral
NOOE – They are just getting going, but he said that the new website will be up in a matter of days with lots of details. In the meantime, here is their Google Drive with lots of documents about the property – https://drive.google.com/drive/folders/17qEnmvX8ITrirWi13DjrAl-h_LpopZVe.