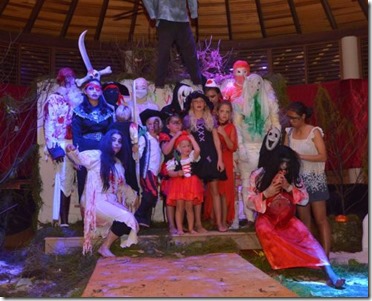 Happy Halloween!
When we moved to the UK in the early nineties, the British didn't really celebrate Halloween. It's since become a more popular holiday, but nothing on par with the USA where it is the second biggest celebration after Christmas. It's sort of the dream kids holiday – they get to dress up and get free candy. Not wanting to deprive our own little ones of this annual ritual, we hosted our own quite spooktacular Halloween fun all through their childhood and became quite expert in these lavish affairs.
Many resorts will have a few decorations out today and a few sweeties on hand for the young'uns, but Hideaway Beach is the first resort I found that has assembled a comprehensive set of Halloween festivities with all the de rigeur traditions…
Pumpkin Carving
Creepy Mask Making
A Spooky Movie
Scary & Spooky Face Paint
Trick or Treat Activities
Fashion Show Costume Contest
Appropriately, Hideaway Beach is where we first (and only time) spotted a Ghost Pipe Fish (see photo below). Which make me think that if I could get to the Maldives for Halloween, I would go dresses as a Batfish (Batfish crazy!).