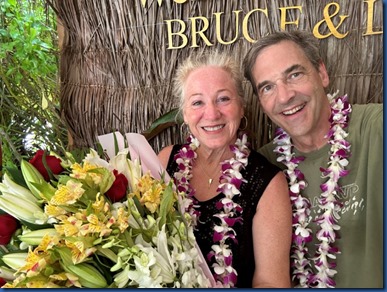 We have a family tradition that we started with our family trips to the Maldives years ago and now do with every significant trip somewhere. We also play it with people who visit us in the UK. We call it the "Interview Game" because it involves asking an extensive series of questions about the past week. It definitely draws on my journalism background.
I find that the key to a good interview is to ask questions about small details of the visit. Big questions like "happiest moment" or "biggest embarrassment" take too much thinking and can be fraught with sensitivities. But asking something like "What did you pack that you did not use?" does not take much intellectual or emotional energy. Just a simple reflection. Often with quite intriguing answers. That particular question gets to the heart of expectations which is something I love to probe after experiences.
Interviews are a common feature on Maldives Complete. And in fact, I've even featured a round of the Interview Game with one of my interviewees who we met up with at Amilla Maldives. So some of the more prominent questions are there. But I thought people would enjoy a comprehensive list to draw from so I've included a list of all my favourite questions below for you to go through at the end of your next trip wherever it takes you:
What did you pack that you didn't use?
B – A couple of dress shirts (I perspired less and was able to re-wear some of my favourites)
L – A couple of dresses
What didn't you pack that you wish you did?
B – My spare Mac which would have been a better backup when my machine died and I had to use Lori's less powered computer.
L – Red filter for GoPro
What did you pack that you used the most?
B – My business cards
L – My plain white swimsuit cover-up.
What did you break or lose?
B – My computer's motherboard got a fault.
L – Nothing
What food did you most enjoy?
B – Vilu Reef's poppadom shots (a revelation)
L – Iru Veli's Wagu beef MB6 at the beach dinner.
What was your favourite view?
B – Iru Veli's sandbank breakfast.
L – Ailafushi's underwater restaurant.
When were you the most nervous/anxious?
B – When my computer died.
L – First dive as we hadn't done a dive for a over a year.
What surprised you most about the destination?
B – The sparkling phosphorescent plankton blue stars on Vilu Reef's beach.
L – The welcome at Vilu Reef and Iru Veli (we've never experienced anything like it).
What most disappointed you?
B – Baglioni's Kids Club.
L – Ailiafushi's lack of house reef.
Name a word you learned in Dhivehi?
B – "Boli" means "shell" (from Dhawa Ihuru)
L – "Iru" means "sun" (from Iru Veli)
Name a fun fact you learned about the place?
B – Maldivian octopi are some of the shyest octopi in the world as they have many predators (especially nurse sharks).
L – Two resorts connected (Lobigili and Ailafushi)
What would you do (if money and logistics were no object), if you had an additional day to spend?
B – Spend a day doing nothing on the deck of our Iru Veli water villa with periodic dips in the pool (our trips are pretty busy so I tend to fall short on the indolence).
L – Spend more time lounging in by the pool.
What tip would you give someone about to embark on a trip like yours?
B – Don't worry about the weather reports.
L – Even in July if there is some forecasts of rain, it's still warm so no need to bring a wrap or anything, And don't bring nice shoes.