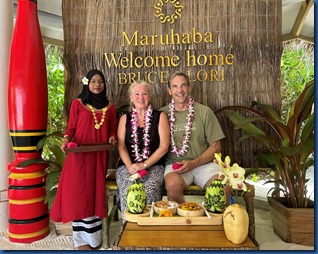 Sun Siyam Resorts and Sun Siyam Iruveli resort are fans of the Maldives Complete website and gave us a particularly warm welcome. One of my motivations for all the work I do on the website is to be more of a "participant" than a "spectator". This Maldivian owned, run and staff-dominated resort made us feel especially embraced by this wonderful destination that has become such a big part of our lives.
Iruveli is sitting right in the luxury property sweet spot. So many topflight resorts are entering the $1000/nt for a solid luxury product. Iruveli stands shoulder-to-shoulder with these competitors with a differentiation on value by pricing a bit lower and offering a bit more in their all-inclusive (eg. floating breakfast, free dives). If the solid luxury experience is what you seek, but the $1000 is a stretch to your budget, you should look at Iruveli. The food is superb with gourmet options of inventive concepts (stay tuned).
Increasing focus on experiences. For example, we had a number of firsts during our stay (which is not easy have 25 years of visiting the Maldives and staying at 115 resorts. One was using an underwater scooter. We never really fancied the experience, but found it more enjoyable and useful than anticipated. We've seen these advertised at other resorts and at first look they seemed like an overly engineered gimmick, but having done the experience they actually do have lots of merit. You can cover more ground more quickly looking for your favourite creatures, you can do more with less effort, and you can worry a bit less about current (but never stop worrying about current). One tip is we didn't really know whether to use our fins or not. In principle, with the scooter providing the propulsion they are superfluous, but in reality they are handy to provide control treading water when the scooter is not running (and also they provide backup if your battery ran out).
Sun Siyam is one of the longest standing resort groups in the Maldives, so they definitely have the experience to create great experiences (stay tuned for many examples in upcoming Best of the Maldives posts).