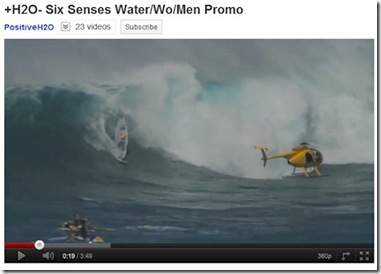 If there is one thing that defines the Maldives, it is water. The country seems primarily aquatic with dots of land for the convenience of the humans in the area. If anything, the Maldives have to contend with too much water especially in the climate change scenario which predicts rising oceans. But so much water doesn't take away its preciousness.
Celebrating this treasure is this week's Water Wo/Men event hosted by Six Senses Laamu. The event centres on a number of guest speakers and workshops presented by leading water activists such as the Water Charity, Plant a Fish and Blue Marine Foundation. But rather than just a dry session of self-flagellating lectures, Watermen brings the topic alive with workshops of dazzling water activities like surfing, diving and sailing. Finally, I love how ''Splash' star Darryl Hannah is one of the celebrity guests
"Leading 'watermen' – surfers, windsurfers, kite surfers and divers ­– will be joining renowned conservationists in the Maldives to draw attention to the fragile relationship between man and water in today's world. The Six Senses Watermen event will mix fun and sport with serious debate on global issues relating to rising sea levels, underwater eco-systems and the basic human right of access to clean drinking water."
For folks interested in exploring the topic of water ecology further, I recommend the documentary Flow which is sort of a 'Inconvenient Truth' for water.