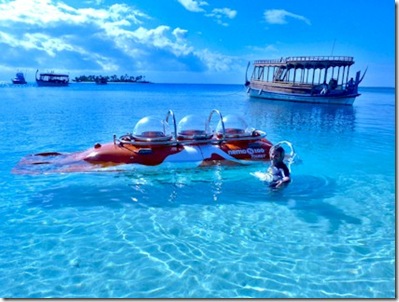 If windows over the ocean is not good enough for you, how about windows under the ocean?
You can go diving in the crystal clear colourful waters of the Maldives without a scuba course or even holding your breath. Conrad Maldives Rangali features a Nemo submersible.
"Built in Germany by Nemo Tauchtouristik, the Nemo N100 submarine can dive to 30 metres and seats three people: two passengers and a trained pilot. Looking like something from a futuristic space cartoon, the submarine is bright orange with white stripes, characteristic of a clown fish ("Nemo" in the Disney film) with three acrylic glass 'pods' sticking out of the top offering the submariners 360-degree views of the underwater world they're passing through. With the submarine's arrival in late February, Conrad Maldives Rangali Island is the only resort to offer its own daily submarine tours to its guests, naturally subject to weather conditions. The price for one dive is US$495 for two people, or US$280 for one person."
Our family went on a submersible in Mauritius and it was great fun. It is a great activity for young children to both as a unique ride in its own right as well as a way to expose them to undersea marvels before they can snorkel or snorkel easily in deeper water.
10,000 micro-leagues under the sea.