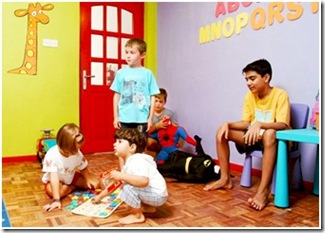 Maldives is a great destination for families with children, but one common question is what about the very youngest. The consensus at TripAdvisor's Maldives Forum is that Bandos is the top resort for babies.
"Quite a number of people have said, truthfully and helpfully, that Bandos is about the only 'baby friendly' hotel in the Maldives."
Some debate the advisability of bringing extremely young children to a place as remote as the Maldives with less extensive care on hand. One of the benefits to Bandos is its proximity (8 km) to the main island of Male where the most extensive medical care, full hospital and airport are all located in case of an emergency.
"At Bandos we think of making your holiday as hassle free as possible, and for those families travelling with young children the Child Care Centre and Kids Club will prove to be a blessing. Now you can enjoy your holiday comfortable in the knowledge that your children are in the capable care of our professional child minders and baby sitters. The facilities are free of charge and the staff of Kids Club provides baby-sitting services free of charge, for children between 8 months to 12 years, between 0900hrs to 1700hrs, although a small charge is levied after 1700hrs. The Kids Club is equipped with a nursery full of toys and a large playground outside so that even your children would be guaranteed an enjoyable holiday experience."