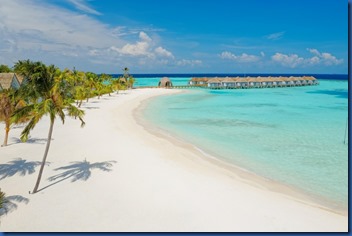 I grew up spoiled by soft sand. Crane Beach in Ipswich, Massachusetts USA was renowned for its miles of flour soft white sand (kept clean and fine by an off-shore sand bar which acted like a filter of hard and soft debris). The brilliant white sand of the Maldives makes for great posts of the card and Instagram types. But on closer inspection with one's sensitive piggy toes, one quickly realises that crushed coral (which is what the sand is comprised of) can be quite sharp (with plenty of broken coral bits washed up to really pierce your soles.
We have found a number of islands with soft sand (eg. Gili Lankanfushi, Safari Island, Mirihi), but we've not come across a property with plush icing sugar texture as Maafushivaru. I'd be wary of awarding such a kudo on just my experience, but I was convinced with veteran Maldives aficionado Francisco, who has visited over 40 resorts, made the same assertion.
Now Maafushivaru is in the diminutive island category which means they have less area to maintain. But maintain it they do. They had a team of a several groundskeepers raking the beach early every morning to sift out the shards and broken shells that had come in with the night time tide. Another aspect to tis distinction was the first impression made by the reception's especially plush and floor like a rich, sand cashmere shag carpet whose softness you sink into.