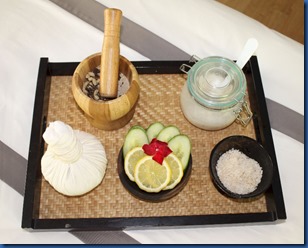 Stations are a commonplace feature at resort restaurants providing the freshness and customisation of a la carte with the variety of selection of a buffet. Dhigali brings the concept to the spa with their Natural Scrub Station for facials and body scrubs. Scrubs made custom for your treatment from the following ingredients:
Sand with clove, cinnamon and cardomon – Maldive rub
Lemon
Coconut
Cucumber
Fresh scrubs freshly made from fresh ingredients for fresh skin.