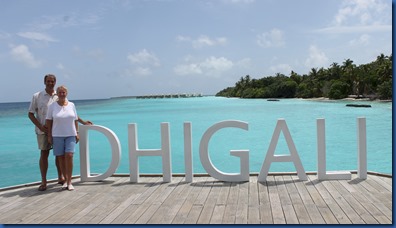 Someone who has put their customer-thinking cap on is Dhigali. Another Raa relative newcomer, it benefits hailing from the veteran Maldives stable of parent company Universal. Compared to our immediately preceding stop, the basic 5-star of Kudafushi, Dhigali has invested in a number of distinctive touches. And as such, its rack rates are also a bit higher. So are the touches worth the money? Well, that's down to each individual guest (my mantra – "there's no best resort…just the best resort for you"). But I will say, at least all of the special touches were clearly crafted with the guest in mind.
Dhigali have crafted an inspired sunset bar, Haali, with fun swings, comfy beach cushions. The other landscape feature they have optimised is the dense jungle of their island interior. They've created a little "Jungle Walk" through it which is a narrow path winding around with some guide signs posted providing fun factoids about the flora and fauna they pass. I love their main pool which sprawls and includes a number of enticing features. But my favourite optimisation is their Buggy Tracker app. Part of an overall handy app provided to all customers which is itself a superb innovation, the buggy tracker makes hitching a ride easy and convenient without the faff of calling for a buggy or waiting and wondering when one will be by.
Dhigali puts their touches of luxury into things that don't just make the property look prettier, but more importantly directly enhance the pleasure and comfort of staying there.