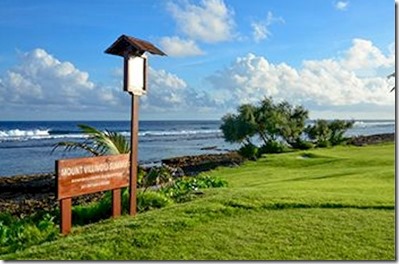 "Ain't no mountain high enough…"
That just might be your feeling in the Maldives when you want to shout out your love for your beloved. And for good reason with an average elevation the lowest in the world. But on todays "Beloved Wives Day," your highest option is Mount Villingili on the eponymous Shangri-La Villingili resort.
"The world's smallest mountain, Mount Villingili, at Shangri-La's Villingili Resort & Spa, Maldives has just been officially certified as the highest point in the Maldives, which is known for being the flattest and lowest country..Despite its humble height, it dwarfs over the previously known highest point on Addu Atoll that stands at only 2.4 metres above sea level…From 25 November 2013, visitors may conquer Mount Villingili with the opening of a daily Mount Villingili Tour. They will be issued a certificate confirming that they have climbed the islands' highest point, a perfect memento of their trip to the Maldives."
At a less than nose-bleeding 5.1 metres, it might be more aptly named "Mound Villingili".