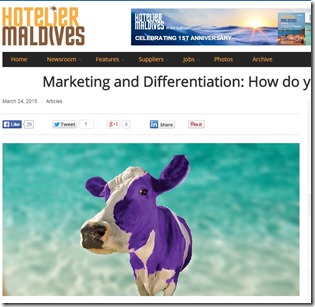 I try to help.
Most of the material on Maldives Complete is aimed at helping prospective visitors to the Maldives decide on the best resort for them (my response to the question I get asked most frequently…"there is no *best* resort overall, just the 'best' one *for you*"). As I've discussed many times, I've leaned towards more of the underserved groups like families going to there, but over time I've covered just about all niches including the mainstays of honeymooners and now, especially after the Dive Site database addition, divers.
One group that I also help where I can are the resorts themselves. A number of resorts follow the "Things I Haven't Seen Yet" series. I always have delightful, extended chats with the resort management and the Ministry of Tourism when I visit. After nearly 20 years of visiting and over 50 resorts visited, not to mention my countless hours of on-going research and input from the website fans, I have many thoughts and perspectives about the Maldivian experience.
A number of resorts will often pitch me that their resort is a "Best of the Maldives" candidate for some special feature only for me to deflate them by citing several resorts who offer the same thing. On the other hand, I always uncover unsung treats on their island that they didn't even know was unique in the Maldives. My island tours are like mini treasure hunts for me seeking out these overlooked gems as well as missing (incomplete!) data and photos of the property.
Recently, I was invited to do a guest piece by one the leading publication for the industry, Maldives Hotelier – "Marketing and Differentiation: How do you choose?" It discusses a principle at the heart of good marketing, the destination of the the Maldives itself and any self-respecting resort – "distinction". A big nod to Seth Godin "Purple Cow" thinking about being "remarkable" as well as other tips I have noted during my travels here and elsewhere. And all about finding both the gems on your property as well as *being* the best resort for maybe not everyone, but certainly for many.