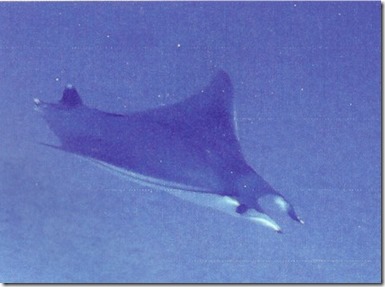 (picture courtesy of Alexander von Mende)
Maldives diving expert Alexander von Mende not only helped with the Huvadhoo dive sites, but he also offered some very insightful tips for my Best of the Maldives research. He ventured that the dive site Dheeva Giri is the best in the Maldives for Mobulas. Well, I certainly hadn't encountered these creatures in my 20 years of visits and research.
In fact, I didn't even know what they were. So I turned to Alexander's book which also includes an extensive marine life guide. It turns out that Mobulas as sort of mini-Mantas, also referred to colloquially as "Pygmy Devil Rays" (great name).
Alexander says that the only place he has seen them has been at Dheeva Giri and Nilamdhoo Kandu which is near Robinson Club. He commented…
"We had a place which was regularly frequented by them in larger numbers: Dhevva Giri's southern sand flats – quite a sight these small Manta relatives"