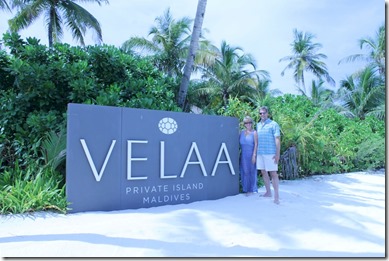 This is the resort I've dreamed about. Anyone who says they have seen it all in the Maldives, hasn't been to Velaa.
I've been writing "Things I Haven't Seen Yet in the Maldives" for four years where I highlight those things that could work great in the Maldives, but one has introduced them…yet. My very first edition, I lamented the lack of the classic affluent pastime – golf. Velaa hasn't just featured it, but has created one of the best equipped short courses in the world. I've also since wondered when someone would bring the Hotel Jen vista experience to a resort island. Velaa's "Tavaru" (Dhivehi for "Tower") is just as sensational an overhead perspective on the Maldives waters as are the much vaunted super-luxury underwater restaurants and spas beneath the surface. And just last week, on my 8th edition of "Haven't Seen", I noted the adrenalin ride of Jet Surfing only to find one at the Velaa water sports center.
"Velaa" means "Turtle" in Dhivehi. The name is more than a label, but rather a pervasive theme that imbues the entire resort. The whole island is constructed to evoke the image of a turtle. The round Fushivelavaru island forms the body, various jetties the fins and the water villas are arranged to form a turtle's head with two huts placed in the center to form the turtle's eyes. The resort's logo is a subtle thematic design used throughout the property representing the pattern of a turtle's shell. Rooms are adorned with black-and-white art prints of hawksbills. But the best highlight is that Velaa itself is a breeding island for turtles which their resident Marine Biologists Tess and Dee work to support. And just when we set foot on the island, several hatchlings emerged and scampered to the sea and a new life ahead (here's the video!).
It's not just about dazzling with some "wow" features as Velaa gets all the fundamentals impeccably right. Gourmet food on offer from their menu developed by Michelin starred chef Adeline Grattard. Another expansive Noonu beach (one of the largest in the Maldives) of powder soft white sand. Relatively rare high speed Internet (it's surprising how many 5-stars have impossibly sluggish connection). And on the more human side of high quality service, our waiter Shiyax (pronounced "Shiyaz") was one of the most pro-active meal advisors I have had at a restaurant. He really engaged with us with insight and ideas (I wish London waiters were as helpful). Finally, the superpower rivalries of the superpremium resorts, overwater spas are the equivalent of aircraft carriers in the flotilla of luxury. To be a proper superpower, you need to have one and Velaa's is truly Nimitz class. Its two-story spa relaxation area is available to all the guests free of charge with some truly distinctive features (a few of whom I've already written about).
Throughout the resort, Velaa has an unmatched obsession for decorative detail. Someone really went around and decided what would make every nook and cranny consummately inviting. The Velaa villas seem like properly elegant homes that would appear as a showcase in Home Design. Instead of a single obligatory piece of artwork to fill a void on a wall, they have a many pieces throughout the room artfully arranged. In fact, their stylish décor is a cut above from top to bottom. They have colourful arrangements set up in high spaces (like over the closets…who else has decorations on top of tall closets?) and down to the floors' lovely carpets. Most resorts really opt for a stark Spartan aesthetic. They may be going for a minimalist chic, but you know they are also channelling accountant conservatism.
All those sumptuous accessories don't come cheap. It's what a cool $275m buys you (yes, look at that number again…here it is written out – $275,000,000). That's what Velaa invested not counting the island lease. With 47 villas, it's like you are renting a $7m house for the week (and that's not including the service/operational costs).
The Maldive's latest big budget blockbuster, Velaa, not only stands shoulder-to-shoulder with the super de-luxe titans of the Maldives resort business, but may in many ways is setting new bars. It is for people for whom NV, off-the-peg, and turning right on an airplane is not a consideration. Velaa is less for people who prefer the finer things in life and more for the people who prefer the finest things in life.