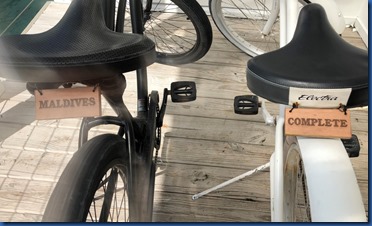 Amilla makes custom license plates for its guests' bicycles
Jason and Victoria Kruse have simply re-invented Amilla transforming it into a distinctive property of unpretentious luxury and style. "Humble chic" was the best way I could describe it. Amilla is the place to go for people who appreciate quality and refinement without fussy ostentation and OTT extravagance.
I have a fairly strong policy to not revisit resorts as I am so keen to see as many in the Maldives as I can. But there is one management team for whom I will break that rule – Jason and Victoria Kruse. Partly out of gratitude as they were a catalyst to me investing deeper into the website. When I visited their resort, Kurumba, in 2009 and they raved about my recently launched Maldives Complete, it inspired me to put more into the project.. Partly because I admire what they do to a property filling it with lots of distinctive features that are the types of things that I love to write about. But mostly, because over the years we have developed a deep friendship with them sharing thoughts and ideas about attracting guests to the Maldives and appreciating this paradise.
So when Lori and I happened upon an opportunity to escape dreary wintry England and Jason insisted that I had to include his new baby, Amilla (formerly known as "Amilla Fushi"), we couldn't resist. We were hesitant at first because, frankly, the original Amilla Fushi property left us a little underwhelmed. When we first visited, it was a striking property with its stylish modern design, but the expectations set were even higher with its $2000+ per night price tag. One simple point of comparison was that it was priced at the super luxury high end, and yet after our visit I only identified 16 "Best Of the Maldives" pieces to write about (by comparison, most of the top flight properties like Soneva Fushi, Velaa and One & Only Reethi Rah boast over 50).
The very first thing Jason did was take the property out of the super-premium bracket by slashing the rack rates by more than half. Just taking this step was a game changer. Now, this resort moved from being a lackluster super-luxury property to being a table topping luxury one. Price is a hugely important variable. Maldives holidays stretch mostly peoples' budgets and you want to pack in as much as delight as you can for such an outlay.
Shifting Amilla's positioning was only the first step to a true re-invention of its ethos and vibe. Of course, Jason and Victoria, are bringing loads of innovations big and small (stay tuned for a lots of fun posts). Most importantly, they are throwing themselves into the island. Jason and Victoria are part of a select group of Maldives devotees (with whom I can deeply empathize) with a true passion for this spot on the planet. They are not managers doing their stint for a couple year contract and then jetting off to their next posting. Rather, they have fallen in love with the destination and are committed for the long haul (like Patrick now at SAii Lagoon, Sonu and Eva at Soneva, or Giovanna at Nika). The island is already bubbling with their spirit. It is more than a job for them and really their whole life.
COVID PROTOCOL – Amilla boasts one of the most intense COVID prevention protocols in the Maldives. They have invested in their own testing capability so they can test each and every guest on arrival and provide results overnight (I only know of Soneva that also has this capacity and regime). All guests are required to quarantine in their room until PRC results arrive. This way they catch anyone who might have possibly picked up the virus from the time they took their Fit-to-Fly test 96 hours before departure.