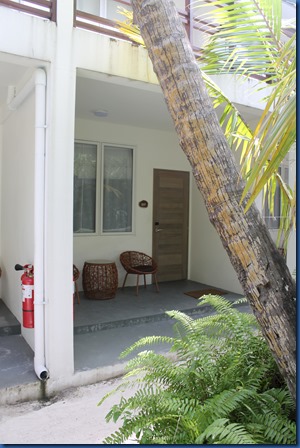 Malahini Kuda Bandos could be described as the New Jersey of the Maldives – the affordable property Garden (Villa) State in the northeast of the country just across the harbour from the high rises of the local metropolis whose skyline rises out of the horizon with unsung touches of distinction in its own right.
The resort has more Garden Villas – 32 – than any other room category. In fact, more than any other resort except for Kuredu who does have a handful more, but also is an island literally ten times larger as well.
Our stay there was only the third time we had stayed in a garden villa. And the villas were the most modest of all the ones I had ever seen. Two story apartment blocks facing each other in tight proximity on the inside of the island. But the blueprint is a sensible way to get an optimal number of guests on a small island without spoiling too much of the beach and other common areas. As a result, like the residents of "Joisee", visitors can find some of the lowest priced packages in the Maldives (especially when factoring in the low transfer cost being so close to Male). Maldives snobs might poo-poo anything less than a thatched roof private villa with ocean views, but they forget that such apartments are where many people on their beach holidays all over the world. These rooms just happen to be in the middle of an island paradise.