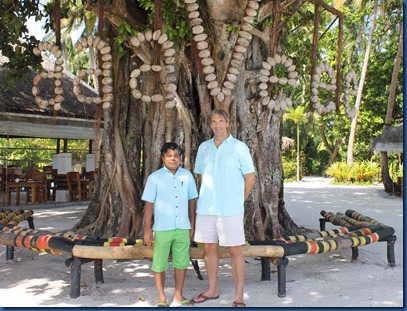 For someone who has been coming to the Maldives for 20 years, arriving at AaaVeee was like seeing an old friend. In more ways than one. Not just its classic, retro-Maldive simplicity and rustic style, but also on a personal dimension as well.
This tour is turning out to be a Reunion tour of Maldives friends – Bunyamin, Aima…now Ahmed Nazeeh who is managing sales and marketing at the property. Nazeeh and I first met in 2012 when he was looking after Holiday Island (see photo at bottom). So arriving at AaaVee treated me to another greeting by a Maldivian friend.
"AaaVeee" means "revival" which refers to their revival of the resort style that first started the Maldives tourism industry back in 1972. Like Holiday Island (well, the way it was in 2012, they have changed the villa exposures now), you can't see any villas from the exterior. Just uninterrupted, unspoiled luscious lushness. Indigenous rusticity pervades the property reminding me of an Italian agri-tourismo vibe. Not only is the food sourced locally, but the furniture and villas themselves are as well made by local artisans at workshops on the island.
There must be more palms trees per square foot than any island I have ever been to. And AaaVee goes to considerable lengths to keep and nurture even more. Many of the buildings were simply built around the trees with their trunks sticking through holes in the roof. In fact, the palm trees themselves do their bit as well. Nazeeh showed me a few seedling "twins" on the island (two trees growing out of a single pod). And the island features a very curious specimen which refuses to shed its fronds when they die (see photo at bottom) creating quite a striking collection of old fronds.
The seaplane to the resort is a pricey addition to your holiday cost, but if you are looking for a long stay, it is an economical option with attractive value pricing. Another bonus is that you can actually go on a whale shark excursion to the famous South Ari Atoll Marine Protected Area.
If you are looking for a value priced eco-resort, you won't get much more native nature for the dollar than AaaVeee.