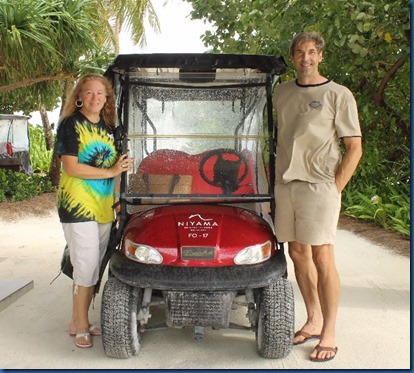 NIYAMA has the potential to be one of the top "foodie" resorts in the Maldives. I can't say definitively because I didn't have the opportunity to sample too much of their cuisine, but half of the Best of the Maldives pieces I have done to date about NIYAMA have been about their dining, and more than half of the new pieces I discovered during my visit were F&B related (and I didn't even venture into any of the gourmet a la carte outlets). A bit of a foodie mecca with the longest standing molecular cuisine and concept eateries like Tribal and Nest (mind you, you do pay for the indulgence as simple starters can run $40).
I was thinking that NIYAMA would be in the "super-premium" (aka "6 star") category, but it is really more like a "5+" star (the "+" being for the food). Its famous Sub Six underwater restaurant is a "wow" item you tend to find in the super premiums. It is priced competitively in the $1000-$2000 range for 1 bedroom beach villas (the super premiums tend to start at around $2000). More for multi-millionaires (or 'ordinary' millionaires splurging) than billionaires, more Neiman Marcus than Bergdorf Goodman, more Conran than Ive, more BMW than Aston Martin. It also reminded me of a big event in my hometown "Pub in the Park" where Michelin star food is served up along second bill rock acts like 10cc and Mel C. Or, another comparison close to home, Marks & Spencers which features the most posh food hall on the high street along side a rather conventional clothing range.
Our stay also provided a numbers of "Firsts". Any first is an accomplishment since we have been coming here for two decades. You would think we had done it all by now. All the "firsts" were triggered by the top one on the list, but all the others were lovely silver linings to its dark clouds…
First Entire Day of Rain –
First complementary bottle of champagne…actually drunk. We get presented with complimentary bottles all the time but never drink them. But the weather sequestered us in the room so pop went the cork.
First Bath – First time the temperature was cool enough that a hot bath sounded like a good idea. Though we did hit the ultimate first world problem – we forgot to bring our glasses of champagne to the tub.
First in-room movie – Appropriately enough, we watched "The Shape of Water" on the in room television as inclement weather was limiting our midnight walks and sitting under the stars with our post-prandial pina coladas.
If you are a connoisseur of gourmet delicacies, then NIYAMA could be absolute paradise for you with lots of firsts for your discerning palette.