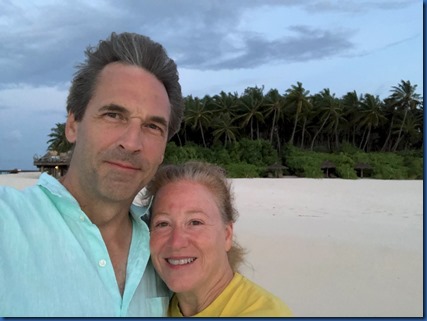 Another annual pilgrimage to the sacred destination of our dreams concludes. The sunrises, snorkel spottings, villa photoshoots, property tours, transfers, treatments, pina coladas, sunsets and star-gazing has finished. Now begins the remote re-living of our time cataloguing the photos, editing the videos, transcribing the notes, emailing the follow up questions, updating the database and reliving the our time there from afar.
Here are the vital statistics of Maldives Tour #9 (Complete-Ly by the Numbers)…
Resorts Visited – 8
Days of Travel – 12
Seaplane Rides – 4
Average Air Temp – 34 degrees
Average Water Temp – 29 degrees (gulp…comfy for us but less so for the poor coral polyps)
Rain – 1 full day in aggregate (most of one day and a few showers on a couple others)
Snorkel Spottings – 15
Dives: 3
Room Profile Photos Added – 56
Dive Charts Added – 34
Best of the Maldives pieces identified – 52
This whirlwind exploration of Dhaalu anew, Lhaviyani renewed and assorted undiscovered corners of Kaafu brings our lifetime total of resorts seen to 91. According to everyone we have spoken to, this puts on the top of the table as world leading visitors (Though Michaela Reisser is chasing us down. If she catches us, I might have to refine our bragging rights to being the "amateurs", or true aficionado, with the most visits as she is a travel professional).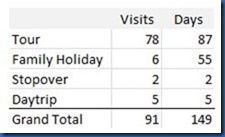 Despite our years for Maldives adventures, this trip still provided a number of "firsts". In addition to the slew provided by NIYAMA (First Entire Day of Rain, First complementary bottle of champagne…actually drunk. First Bath, First in-room movie), here are a few other firsts…
No Shoes – From the very outset. This trip was our first literally "no shoes" visit to the Maldives. We typically change into our flip flops at the first resort and don't pack them again until we are heading back to the airport. But this year, we actually wore our flip-flops to the airport.
Underwater Dinner – We have had an underwater massage, underwater night show, underwater cocktails, but we have never sat down for a dinner.
An interesting note is that despite 20 years of habit and ritual, there were a number of things that we distinctly didn't do. Not really intentionally, but it just sort of happened
Swim in a pool, even a private pool dip – The key reason why we didn't avail ourselves of our private pools when we had them (and increasingly common amenity) is that the previous week had a lot of rain so the pools were quite chilly. Usually, they are baking in the sun and are a relaxing tepid temperature, but I think the ocean (sadly) was warmer than the pools most of the time.
See as many things snorkelling – The coral damage of the rising ocean temperatures exacerbated by the recent El Nino as well as the COTS infestation has been well reported, but this trip was the first time we seemed to see less marine life on the coral-denuded reefs. Of course, that is the obvious knock-on effect to coral devastation. We didn't see but a single reef shark snorkelling (the puppy sized ones still frequent the shallows) and the fish soup just seemed a bit thinner.
See a great sunset – One of knock-on effects to the July travel, with its variable partly cloudy skies and passing rainstorms is that there is really too many low lying clouds to allow for a great sunset. Their low altitude means they reflect less of the sun when it dips below the horizon. Also, the excessively thick collection of clouds stand between you vantage point blocking the sun itself as it sets in the distance.
Riding back on the speed boat transfer to Male airport, I mused about a few reflections and general observations about the overall tour…
Intimacy with the ocean – The ocean dominates everything. In contrast, when we were at a similarly tiny island in Indonesia, you still felt the distinctly "on land" and surrounded by as much land as ocean. Some Maldives purists don't like water villas claiming they are not native (an invasive architectural species from Bali) not to mention that constructing them can be environmentally disruptive. But I feel that they are in keeping with the essence of this ocean intimacy.
Value is Back – So many people have bemoaned the gentrification of the Maldives resort neighbourhood. It seemed that everyone favourite 3-4 star resort was being relaunched as a glitz super-deluxe property at several times the price. The whole guesthouse movement has replenished the stock of rooms at the budget-priced bottom end. But also, a slew of new openings have targeted the value-priced middle market in recent years. Increased ease of operation with Maldives tourism infrastructure, local skill sets and know-how, supply chain has made is easier and cheaper for resorts to build and operate which will help temper holiday inflation.
Salt Shakers – Why does any resort feature these? They never work. Even when a few grains of rice have been mixed in the salt. I guess there is a potential hygiene issue with using salt cellars instead if everyone put their fingers into the well, but they could use little spoons (which is the mannerly way to use a salt well).
Mother and Child Reunions – One final observation is that during our tour we encountered several single women travelling with a young son. Is this some sort of highly specialised niche that the Maldives could cater to?
Participant, Not Spectator – One of the reasons why I do Maldives Complete, is because I am more of an "active participant" than than "passing spectator" in this amazing part of the world. I'm that way with other parts of my life like sports where I play many sports to a high standard, but don't really watch that much. This trip reinforced that dimension as the first half of the tour seemed like a reunion of old friends – Bunyamin, Aima, Nazeeh, Mahudhee.
While it all seems to many like a glorious holiday, each of these trips is quite a bit of work. It is actually more work these days to get material because the Maldives Complete website is more complete very year. Resorts do a better job of publishing more information to the web, and what they don't publish, their guests share amply on social media. Still, the visits are invaluable to identify the smallest and least conspicuous of details as well as to continue to build relationships with the people behind this paradise.
Lori and I have a set ritual that we perform with every single property in order to get the maximum benefit from the visit:
Take picture in front of resort sign (for the resort overview post).
Take island tour (site inspection) seeking out material and taking photos for…

Best Of the Maldives pieces
Room Type profiles (and sometimes the Resort Profiles as well)
TripAdvisor and site followers requests for information

Visit the dive center to find missing dive sites and dive charts.
Snorkel the housereef.
Sunset pina colada (this one isn't that much work).
Then, when we leave the resort, the work isn't finished as we still have to…
Write and send a follow up email to resort to request additional material and details.
Load the material and photos onto the site (with necessary formatting).
Load house reef sightings into Snorkel Spotter.
Write and post Tour Report.
Post TripAdvisor Forum post.
After this tour, our path across the Maldives is shown below in a map of where we have stayed (all the green stars are places visited and all the yellow ones are all the others which are on our bucket list). Next year we visit Raa atoll which is the last atoll we have not yet visited which has more than two resorts on it. We can't wait!