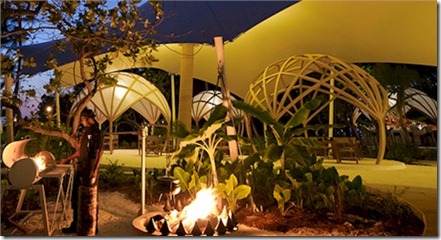 If you like you food as freshly 'roasted' as your coffee, then the Tribal restaurant at the newly inaugurated NIYAMA resort offers 'modern campfire dining.' Sort of like W Retreat's 'Fire' restaurant on steroids.
I was first alerted to Tribal by one of my Maldive friends in the industry who visited it just before opening. He reported to me that for "first time I was at a loss for words in a long time."
"Modern campfire dining. Sand floors. Tiki torches. Local inspiration meets global flair. Tastes from South America to Africa to Asia cooked in the outdoor kitchen. Entrees seared over open flames. Tribal gatherings — a dash of adventure, a pinch of fun."
The concept reminds me of one of my most memorable holiday meals of all time. On safari in the Kruger staying at the Londolozi game reserve, our jeep pullied into the bush after a long afternoon of looking at the 'Big 5'. As night settled on the South African plain, we arrived at a roaring campfire already preparing the night's meal of roasted leg of impala (prompting hilarious jokes from me to the kids about 3-legged impalas for the rest of the trip that I'm sure they never got tired of).
I've always thought that the African safari industry is a real role model the Maldives' tourism development. Africa has created a super premium product out of stunning natural beauty and exceptional wildlife encounters. The 'resorts' (ie. 'lodges') are packed with 5-star luxury, while maintaining the rustic, natural ambience of the surroundings. They have been drawing big ticket tourists for decades longer that the Maldives and have plenty of know-how about packaging and promoting this experience for top dollar. In fact, it was my own personal background working with African tourism that contributed to my starting Maldives Complete in the first place.
It's no surprise then that Tribal's own culinary theme has a heavy African slant with menu items such as "Warhog Cutlets smothered in cape mustard, Loin of African Karoo lamb with wild bush rosemary and garlic, Nile Perch Tikin Xic (prepared the traditional Maya style), Bush Pig and cabbage soup, Warm Ostrich Babotie, Mekong River Squid, and African Cast Iron Potjies such as Springbok slow cooked for 6 hours over coals with root vegetables." (quoted from a superb interview with the Tribal Chef Ken Gundu on the Linara travel blog).
Akubekuhle! ('Cheers' in Zulu)