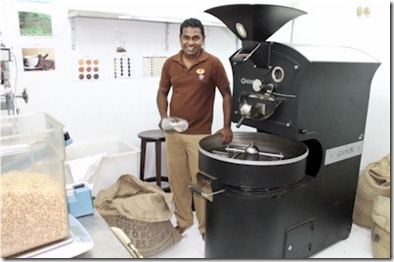 Happy International Coffee Day!
The one thing I typically miss when I visit the Maldives is my morning cup of Starbucks latte. I actually buy the whole beans myself from Starbucks, grind them and brew the drink in an Italian stove top espresso maker. Mind you, I am a very fussy latte drinker and struggle to find great lattes in top London restaurant (the most common sin is that they serve them not hot enough).
When we first started coming to the Maldives 15 years ago, resorts didn't even know what a latte was. Eventually, they brought in espresso machines, but their barista talents were still quite green. Now, I find if I am at a 5-star resort I have a solid 50:50 shot at getting a great cup of coffee (about par with London). One resort which has gone the ultimate extreme to ensure that its coffees are the best is LUX* Maldives. The LUX* actually has links to a South African coffee company so they take this beverage very seriously. So much so that they have installed their very own coffee roaster on the island with its own Chief Roaster Hassan (see above)
"If you love coffee, you'll be delighted by our Island Blend, an organic mix created for us by Carl and Judd, founders of Cape Town's acclaimed artisan roaster Deluxe Coffeeworks…We actually roast organise green beans here on the island and we're schooling our staff in the ways of the barista."
I did enjoy all the coffee I could when I stayed at LUX, but it's also a treat just to walk past the roaster in operation to get a whiff of those fragrant aromas.