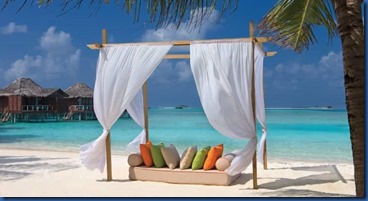 Not only are the Maldives leading the way with their own vaccinations, but they are also investigating extending that effort to guests themselves:
"The Maldives is contemplating the introduction of vaccine tourism across its collection of over 200 resort islands, as tourist arrivals begin to grow in the post-pandemic era… He added that the currently available Covid-19 vaccines require two doses of the vaccine to be received within a 10-week period – meaning, there is a significant window of time between the inoculation of the two doses in which tourists could stay in the Maldives. According to Mausoom, the Maldives is likely to become one of the first countries to have vaccinated its entire population, making it one of the safest destinations to visit."
The best part is the name – "vaxication".
As the pandemic has not just made remote working more acceptable, but in many cases, downright preferable, some executives are thinking that if you are going to be stuck somewhere, why not make it paradise? Whether you want to have an extended stay (and I mean exteeeeeeended) either to wait for your vaccine second dose, or just to luxuriate in the best workplace on the planet, then Anantara Veli is offering a rate to cover the entire YEAR:
"Imagine escaping to your very own over-water home retreat in the Maldives at the drop of a hat. Now with Anantara Veli Maldives Resort's 'Unlimited Stays in Paradise' package, you can book unlimited nights at the resort for a one-time fee and make this island paradise your bolthole for the duration of 2021."
"All You can Sleep" Buffet!