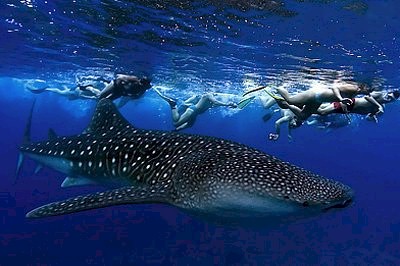 Whales Sharks are a majestic and stirring sight on any diving privilege to see them, and in the Maldives they have a special folklore about them. The best place to see them in the Maldives, if not the world, is at the Dhidhdhoo Beryru Faru dive site (also one of the best wall dives in the Maldives) near Diva resort.
Tim Godfrey reports in his 'Dive: Maldives' book:
"The whale shark

,

Rhincodon typus, is the largest of all fish reaching 15 metres in length. It is a plankton eater and harmless to humans. Divers fortunate enough to see one will find them curious and fearless, sometimes allowing divers to get close enough to feel their rough skin…In early times, whale sharks were caught by brave Maldivian fisherman who would swim with a rope into the mouth of the shark and out through the gills…The practice of swimming into the mouth of a whale shark was outlawed long ago. In one case, a fisherman from Addoo Atoll was sentenced to 80 strokes of the cane and banished to an island for risking his life by capturing whale sharks in this way."
The Euro-Divers dive centre at Diva adds, "We are also 1 of the 2 locations world wide with all year round whale sharks. This is our other main attraction. These gentle giants can be found on our outside reefs. Juvenile whale sharks what we have here are between the 3 and 8 meters long."
The resort Sun Island and Holiday Island are also relatively nearby to these sites.