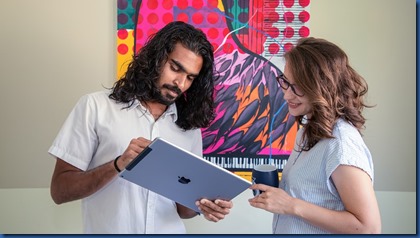 The remote working revolution, powered by the pandemic lock-down, has transformed the extent to which people can unshackle themselves from the location (and time) constraints of doing their job. Some people have taken advantage of their new found freedom to work in the cozy idyll of a shed at the bottom of their garden. But others have taken the workplace revamp to the extremes extending their Maldives holidays by doing a bit of work abroad.
"Residences" and long-term stays (ie. months) have risen dramatically here. A good Internet connection and a growing standardisation of teleconferencing as the default mode of doing business make this increasingly feasible and appealing. It used to be that face-to-face included was the default and you did teleconferencing when you really had to, but now the situation has flipped).
To further help you whistle while you work, SAii Lagoon has introduced the first ever co-working space in the Maldives:
"Crossroads Maldives is set to open the Maldives first-ever co-working space in the Maldives located at The Marina at CROSSROADS Maldives..'Your SPACE' at CROSSROADS Maldives would be the first of its kind in the Maldives where freelancers, remote workers, start-ups, and other independent professionals can work together in the communal setting. Offering flexible membership levels from hot desk to designated desks and spaces, members would be able to enjoy complimentary return transfers from Malé, free Wi-Fi, secretarial services including printing, scanning, mail delivery, meeting room booking and self-service coffee and tea. Additional benefits include exclusive discounts from the diverse range of dining and shopping outlets at The Marina."
Other resorts have added enhanced work spaces in the villas (now tagged with the new tag of "Remote Working"), but SAii Lagoon and Hard Rock have introduced a space dedicated to such working in their Crossroad centre. That way one can get some privacy and other business support services for getting some vital work done (hopefully, so you can stay even longer in paradise with all the fires put out at home).
This is a bit of a special topic for me as one of my other websites/blogs has been looking at the concept of remote and flexible working long before it became trendy – Dynamic Work. As it happens, I am posting this piece from another island paradise, the Galapagos, where Lori and I are taking our Maldives-honed diving skills for a different type of diving adventure and our first ever live-aboard experience.
Why have a faux background on your Zoom call, when you can have the real thing?