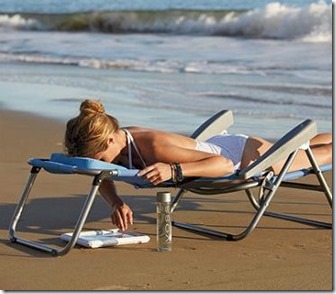 Forget Louis Vuitton, it's Hammacher Schlemmer who should open up their own resort. Researching a few leads on the latest "Haven't Seen", I tracked them down to the Hammacher Schemmler catalogue. Browsing around and I had a field day of clever gadgets and gizmos that could lend some innovative fun to many Maldive resorts…
1. Drink Pool Lounger – And a drink at hand is an extra bonus. Especially great for those resorts with pool bars. Instead of a "drive thru", they could introduce a "float thru". "Inflatable pool lounger with coolers built into each armrest." $150. Best Resort for this item – Royal Island (they have an in-pool bar facing the sunset where lots of guests gather to watch the twilight spectacle sipping their cocktails).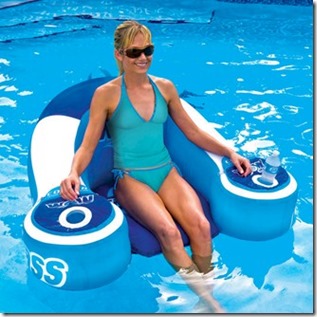 2. BBQ Dining Boat – I've seen a range of sunset cruises and dhoni dinners, but this dingy is in a league of its own. "This is the boat with a built-in barbecue grill, umbrella, and trolling motor that provides waterborne cookouts for up to 10 adults." $50,000. Best Resort – W Retreat (masters of BBQ and style).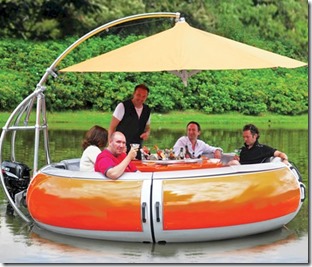 3. Sandless Beach Mat – Another Hammacher special. Military-grade technology comes to beach lounging – "Developed for military use, this is the beach mat that is impossible to cover with sand. Used in military applications to contain sand and dust when helicopters land and take off, the mat is made from two layers of patented woven polyurethane that instantly filter sand to the beach as soon as it falls on its surface." Even comes in 4-person size. $60. Best Resort – Anantara Kihavah (with its expansive, circumambient beach)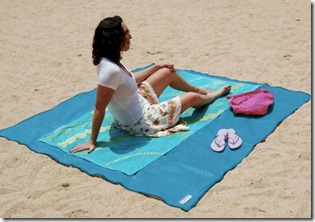 4. Reading Lounger – Yes, the Maldives make you so lazy that the labour of reading does seem to sometimes require technological assistance. "Recommended by physical therapists, this lounger provides optimal support and comfort while you lie prone or supine" $170. Best Resort – Jumeirah Dhevanafushi (with the highest butler ratio, the truly super-lazy might be able to get their butlers to even turn the pages for them).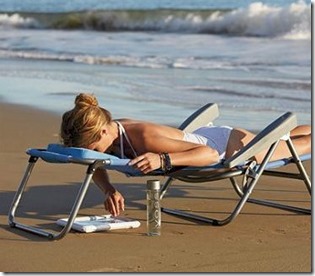 5. Solar Velomobile – The eco-friendly golf cart. "A solar panel built-into the roof powers the 600-watt electric motor for up to 45 miles on a single charge or 100 miles when combined with pedaling." $9,900. Best Resort – Soneva Fushi (the eco-obsessed, large island).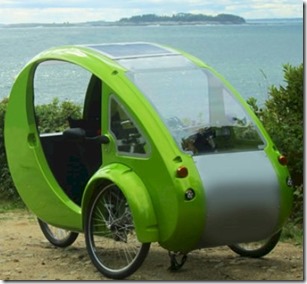 6. Petiole Hammock – "Recipient of Les Découvertes award for innovation at the prestigious Maison & Objet design show, this is the handmade, self-suspended hammock. The culmination of 20 years of research and design, the hammock is made in Sweden by two artisans who painstakingly mold each piece during a process that requires four weeks to craft one hammock" $35,000. Best Resort – Kandooma (fits right into the other white, canvas, arches at the resort reception and pool area).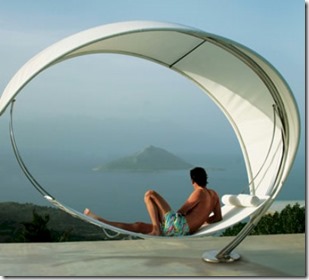 7. Floating Obstacle Course – "One length of the course tests balance while walking over a 2′-wide "beam" – an ideal spot for water-noodle jousting matches – while another encourages players to jump over a two-section water "pit" or descend and climb out. Twin climbing obstacles require participants to decide if climbing over their inflated beams is quicker than crawling through a handful of arches." $13,500. Best Resort – One & Only Reethi Rah (the king of lagoon inflatable play fun).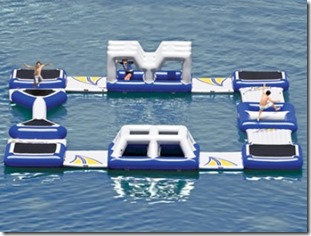 8. Body Launching Inflatable – "Launches a person sitting on its surface into the air when another person jumps onto the inflatable." $600. Best Resort – Four Seasons Landaa Giraavaru (king of the portable inflatables).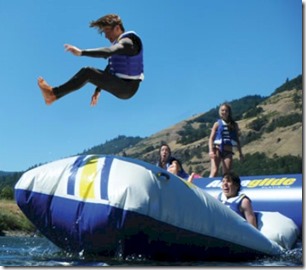 9. Floating Lighting Pool Fountain – "This is the floating fountain that turns a pool into an effervescent light and water display." $100. Best Resort – W Retreat (a bit of extra musical lighting for their DJ nights).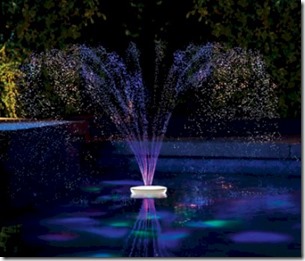 10. Electric Motor Boat – The posh (and lazy) version of the pedalo. "The watercraft's 12-volt electric motor drives its two-bladed propeller, providing leisurely 4-mph cruises over calm lakes or ponds, ideal for accessing secret swimming holes, fishing spots, or visiting neighboring docks." $4,000. Best Resort – Gili Lankanfushi (an updated personal transport to their Residence Villas).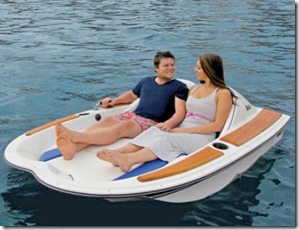 11. In Pool Exercise Glider – "This aquatic exercise apparatus takes advantage of water's natural buoyancy and resistance to deliver an effective low-impact workout that's gentle on joints and muscles." $1,600. Best Resort – Club Med Kani (to take their aqua aerobics to the next level).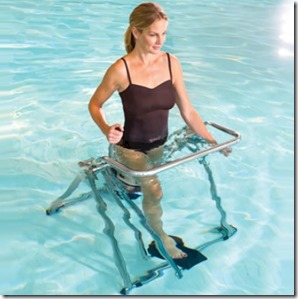 12. Water Skiing Chair – Getting up on water-skis for the first time can be one of the most frustrating things in life. Our kids first got up on skis in Mauritius where the boat had a bar attached to the boat, instead of a rope, to hold onto which made it more stable. This seated device looks like a great progression from bar to rope where one could then move on to standing. "This is the patented chair that is mounted to a pair of waterskis, allowing beginners and experts alike to ski from a stable seated position." $600. Best Resort – Kurumba (with their great catering to disabled guests, this might provide adaptive water skiing for some).