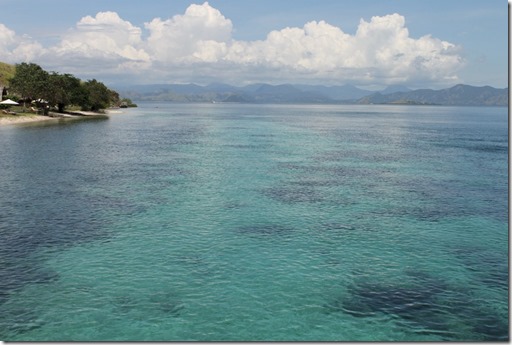 With the rising costs and declining reefs of the Maldives, one of the increasingly frequent FAQs is "Is there anywhere else like the Maldives".  In particular, given the Maldives' distinctive snorkeling, "Are there any places which rival the Maldives' world-leading snorkeling experience."
One of the more commonly cited possibilities for tropical resorts with tranquil isolation as well great snorkeling and diving is Indonesia.  We recently took a trip to Bali for a friend's wedding and thought I would add on a week to visit Komodo, Indonesia and check out the snorkeling scene.
We stayed at a lovely 4 star (equivalent) resort in Komodo national park – Komodo Resort and Dive Centre.  The pictures and reports indicated that I might have stumbled upon something to rival the Maldives' snorkeling supremacy. The resort was in the highly rated Komodo Natonal Park which is a protected marine area as well as a national park on land. Roving police come to your dive and snorkelling boats to check that you have a requisite permit for being there (you purchase these on arrival).
The two destinations had some arbitrary subjective differences…
Maldives flat, Indonesia elevated

Maldives small, Indonesia larger

Maldives blue, Indonesia green
But below are some of my observed comparisons. Admittedly, my impressions are a bit superficial given that I only spent a week there. Still, I did do extensive research to prepare for the trip, the location is reputed to be one of the best in the country (so should show the destination in some of the best light), I spoke extensively to staff, residents and other guests there to compare notes and ferret out more perspectives, and I have the experience of snorkelling all over the world (eg. Caribbean, Mediterranean, Red Sea, Indian Ocean).
Not as good as the Maldives…
Fewer big fish:   The big 5 (shark, turtle, ray, moray, octopus) of the Snorkel Safari are much rarer in Indonesia.  They can be seen, but everyone talks about going on special excursions to special sites to see them.  During our entire stay and several outings, we didn't see a single one.  And we were in one of the reputed top dive/snorkel areas of the region.  Curiously, the

"smaller" fish

(eg.  sweet lips, bat fish, parrot fish) mostly seemed significantly larger than their Maldivian cousins .

More current – There is no sheltered atoll topology.  Instead, the islands rise out of relative deep water much like the Greek Isles.  Furthermore, Indonesia lies smack between the Indian and Pacific Oceans.  As a result, there are lots of currents as the water shifts back and forth squeezing through the archipelagos of the islands.  Our house reef snorkel had the strongest current I have ever snorkeled in.  Fortunately, resort took us in a dingy to one end of the house reef and we drifted back to the exit jetty. Our snorkel excursion was also a "drift snorkel" where a dinghy took us to a drop off and then picked us up again for another go around.
Colder water – Good for corals, but less comfortable for leisurely t-shirt/rash-guard snorkeling.
Infrastructure – In general, the Indonesian tourism infrastructure felt about 20 years behind the Maldives.  That might sound appealing to those old-timers who yearn for the simplicity of the good old days, but it did mean little inconveniences like weak Internet (slow in general, down most of the time we were there on public network and wifi), limited food choices and limited activities (though all those things might be plusses to some).  Payment infrastructure was particularly inconvenient and awkward (eg. difficulties getting online payment system to work, no Amex accepted, 50 Euro surcharge for using Paypal).
Better than the Maldives…
Corals – The key plus to the house reef was the coral.  Especially compared to the currently stressed (eg.  climate change, El Nino, COTS) reefs of the Maldives.  Great diversity, colour and health of hard and soft corals.  Especially, soft corals.  Greater quantity and diversity of soft corals than I have seen anywhere in the Maldives.
Cost – The big win in Indonesia is the cost. I would roughly estimate that like-for-like, Indonesia is at least half the price of a comparable property and activity in the Maldives.