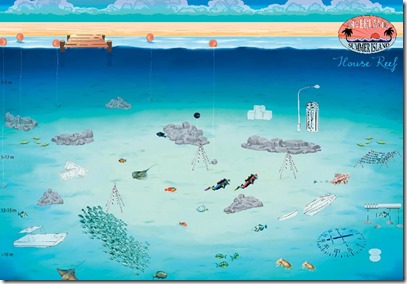 The Maldives seascape is a world of extremes. The house reefs are often dramatic, colourful, textured, vibrant spectacles. The lagoons, on the other hand, can be vast expanses of underwater deserts of endless, featureless white sand. A number of resorts have introduced a range of Reefscaping initiatives to brighten up their lagoon, but none more funky than the work of Diverland (the resident dive operation) at Summer Island.
In the lakes of England where they teach diving, they submerge bicycles, shopping trolleys, anything to provide some visual interest to the otherwise boring landscape. Summer Island has quite a quirky collection shown in the chart above and include a phone booth and a lamp post (see photo at bottom). All of the items are marked with a red buoy (12 in total) making it easier to find and navigate your swimming to them.
Summer Island also features probably the easiest beginner "wreck dive" one could ever find. They have sunk a sand barge and an old speedboat. Reminds me of the post-war practice by the American and British of scuttling obsolete naval vessels to provide reefs for recreational diving and promotion of sea life. Also, the closest thing to #7 in the 4th collection of "Haven't Seen Yet".