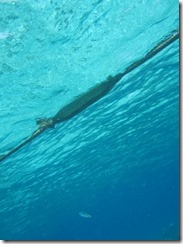 While everyone's first snorkelling question is about spotting cool stuff, their first concern should be about safe snorkelling.
One of the leaders in snorkel safety is Centara Ras Fushi. First of all, they require a swim test before guests are allowed to snorkel the house reef (other resorts like Dusit Thani do this, but it is still a rare measure). They also have the Maldives Coast Guard come and train all their resort employees including groundkeepers and housekeepers in lifesaving. A number of staff have jumped in the water and helped people needing assistance already this year.
Finally, they have stairs out of the water and onto water villa jetty placed at regular intervals. That way, if you go out snorkelling and you get tired, you can return onto the jetty relatively easily. In most resorts, you have to get entirely around the water villas and the only way you are allowed onto the jetty is if you are going to your own villa. The conventional approach is aggravating as the water villas often extend to the house reef edge. If you go snorkelling around them, then you are forced to commit to the entire distance in order to clear them and get to a beach entrance.
But what is really distinctive is Ras Fushi's snorkel safety rope. Snorkelers can use it to grab onto in order to secure themselves and give themselves a rest. Or they can even stick entirely to it and use it to pull themselves along for a guided float across the ridge of the drop-off.   This use is a benefit to another safety measure – wearing life jackets or using flotation aids.   Without question, anyone who has the slightest apprehension about swimming, should consider swimming with a life jacket or floatation aid.   They will help protect from the #1 causes of problems which is fatigue and panic.  One does need to remember that they are not a panacea and weaker swimmers should not get a false sense of confidence just because they are using these devices.  Another issue with using the devices is that they impede mobility.  Therefore, the snorkel safety rope could be an ideal complement where a snorkeler is assisted in buoyancy with the floatation aid and assisted in manoeuvrability with the rope.
The rope is set just below the surface of the water so it is not visible from the island or impeding the view of those on the island (except for several discrete buoy floats, but such floats are found all around all Maldives islands marking channels, hazards, etc). They have strung the rope completely encircling the house reef. I snapped a photo (see above) when I visited. I tried taking one further back so you all could see in in perspective, but when you get further back, it actually not that visible in the open water.
One of the best snorkel "guides" in the Maldives.