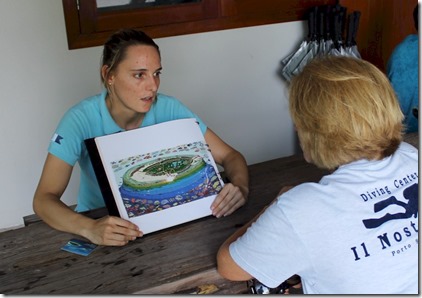 If there is one "Best of the Maldives" innovation that I would like all resorts to emulate it is Dusit Thani's snorkel safety programme. We were taken through it by the resort's dive centre instructor Manon (photo above).
REQUIRED SNORKEL BRIEFING – For starters, all guests are required to have a 15 minute snorkel briefing before snorkelling on the reef. If you have not had your briefing and are spotted snorkelling, staff will approach you and politely inform you of the policy. For us, it didn't matter that we had snorkelled over 50 house reefs and are a PADI Advanced Open Water Diver, we still had to have the briefing.
REQUIRED SAFETY COURSE – If you can answer three questions, then you are cleared to snorkel the Dusit Thani house reef after they have shared a few details like entries, some current tips and other basic information about the island's surrounding waters. The questions are:  (a)

How does one clear a mask?, (b)

How does one clear a snorkel?, and (c)

How does one determine current direction? 

If you can't answer the questions, the guests are requires to take a snorkel safety course (cost $55).

REQUIRED SNORKEL TEST – After the course, you are assessed with a boat accompanying you and your instructor/guide. If you pass, you are all set to snorkel freely on the house reef.
REQUIRED SNORKEL GUIDE – If you do not pass your snorkel proficiency test, then you are required to use a resort/dive-centre guide every time you snorkel on the house reef (cost is $25 per outing)
TRAINED SECURITY STAFF POSTED– All of the security staff are trained in lifesaving and all 3 of the resort jetties have security staff posted. The posted house reef entry points are located near these jetties and the security staff are instructed to watch snorkelers who go out. Probably the closest thing to full time lifeguards I have seen in the Maldives. A measure I think resorts should consider (though the resort points out that these security staff are not intended as "lifeguards" and people should not depend on them for their safety).
LIFEJACKET RECOMMENDED – It still boggles my mind that a number of quite knowledgeable Maldives experts on the

Maldives TripAdvisor Forum

have asserted the

bizarre argument

that snorkelling with a lifejacket is dangerous. I think their reasoning is along the lines of (a) "just say no" – ie. if you can't swim well, don't try it (nice, in principle, but in the real world people don't really understand or respect their limitations, not to mention that this prohibition removes one of the great experiences of the Maldives from their visit), and (b) "over-confidence" – ie. the same reasoning as to why some say seat-belts are unsafe – because the sense of security makes you drive more recklessly (one may drive recklessly, but whatever the outcome of your driving, you are safer with a seat belt). Anyway, authorities like the Red Cross and PADI strongly urge the use of lifejackets when engaging in swimming activities where there is any question of swimming capacity (eg. strong swimmers in tough conditions, weak swimmers in easy conditions). The fact that Dusit Thani strongly encourages this practice is an inspired attitude in my view.
HINT FOR THE TEST – We knew the first technique for checking current, but hadn't thought of the other two which are quite obvious on reflection…
See which way the fish are facing (they swim into the current)

Ask the dive centre

Ask the boat captains.
Happy (and Safe) Snorkelling!