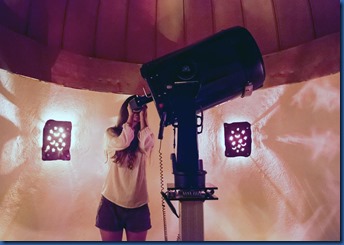 The end of February and still no new moon this month. The rare occurrence of a month with no New Moo is ominously dubbed a "Black Moon". It's not all glum as the absence of moon, especially a bright full one, is great for stargazing. And the pioneer in Maldives astronomy, Soneva Fushi, has added another dimension (literally) to its state-of-the-art observatory: 3D.
"Soneva has introduced a 3D astronomy experience, with the introduction of a brand-new Meade telescope at the Observatory at Soneva Fushi, its flagship resort in the Baa Atoll of the Maldives. Resident astronomers at Soneva Fushi will be on hand to educate guests and show them the differences in distance between stars and other celestial objects using the 3D technology. Mike Dalley, CEO of Inspiring Skies, the company responsible for installing the new telescope, explained the capability of the 3D component: 'This new technology will help revolutionize how we offer astronomy experiences to guests, as it gives depth of field to what people see while looking through the telescope. It means that, for example, while looking at an open cluster, some stars will appear closer while others further away'."
When it comes to star gazing, no moons is good moons.