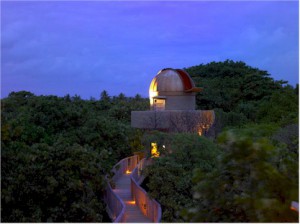 If the stars you are seeking are not the movie and celebrity type, but more of the celestial sort, then Soneva Fushi resort is the place for you.
When we visit the Maldives, we like to take a night sky star-map so after dinner we can lie on the beach and do some stirring star gazing. With clear skies and no light pollution to speak of, the stars shine out brilliantly. Also, being at the equator, one can see both northern and southern hemisphere constellations.
But if you really want to take this activity to a serious level, Soneva Fushi resort offers its very own "Ever Soneva So Celestial" Observatory.
"Equipped with a striking Meade RCX400 telescope, the observatory in the organic garden is the latest addition to Soneva Fushi's unique guest experiences and offers magnificent views into the starry sky."