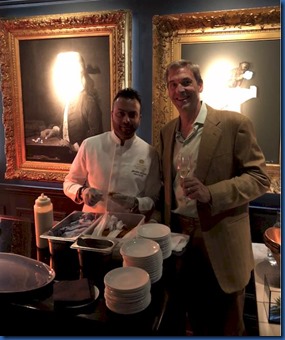 Recognizing their industry partners, Velaa hosted a reception last week at the hip Mayfair venue MNKY House inviting operators, travel writers and travel agents from the area with whom they have been working (including Maldives Complete).
General Manager Mr. Michal Smejc spoke about Velaa's personal connection to the property. The owner is his brother and the family treat it as a home that they share with guests who want to visit. He outlined their constant process on re-examining what could be improved and making constant re-investment into the island touching on some of the recent enhancements and planned refinements.
Perhaps the most striking testimony to their attention to detail and authenticity were the refreshments served during the evening. I had just assumed that they would be hiring in some caterers for a few tasty canapés, but they actually flew into London their Executive Chef Gaushan de Silva a number of their sous chefs from the resort itself to share their treats with the guests personally.
One of these delicacies was worthy of a "Best of the Maldives" itself – Mini Lobster and Langoustine Burger with Thermidor Aioli and Fried Quail Egg. Sort of a bit-sized lobster egg benedict with bonus flavours. As regular readers will know, I am an aficionado of both lobster and benedict (and Velaa has already distinguished itself with the latter).