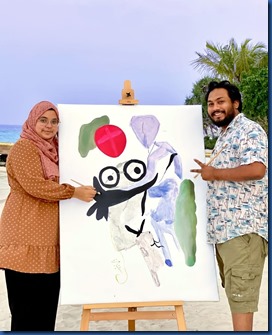 A number of resorts now feature artists-in-residence, but Cora Cora is the first husband-wife team plying their creativity in family partnership. I had the fortune to meet Shameen during our recent visit (see photo below) and he told me about his intriguing artistic journey. He and his wife Sheenez shared their story with Maldives Complete:
Shameen…
How did you get started in art?
I started when I was young. When I was 7 years, my mother asked if I could draw this photo. I started with pencil. At that time, there were no art classes in the school on the local island. In the school, I was sketching on the paper. People asked if I could paint things for them. When I got to Grade 10, I got to be pretty good. There was a competition for the whole Maldives. I had to go into schools. The competition had a theme of Human Rights so we had to to represent things like domestic violence, etc. I received 3rd place. Then I came to Male. I looked for anybody who taught art, but there was nobody. People suggested going abroad, but I didn't have the money for that. I continued studying diligently and I went to school for business management. I told my mother that I wanted to have 6 months to do what I wanted. I was 17 years old at the time. I spent all my money (500 rufia) to buy art supplies. I didn't have good Internet so I went to the library to study books about art. I started painting portraits. I got lots of business doing pencil sketches. I study from my heart, because I love to do it. When I was 18, I wanted to do an exhibition, but I didn't have the money. But someone saw my work who had a boutique at the Male airport. He also had a school and I started teaching at the school. I could paint a painting in under 8 minutes (and people enjoyed watching me do it). I have painted more than 30,000 paintings. At one point, I had to stop painting and I started driving a taxi, when one of the people I drove was the Director of Cora Cora (Martin). During the ride, I showed my work on the phone and he asked me to paint the Cora Cora paintings
Who are some of your favorite artists and influences?
My wife Sheeneez. She is a good observer so she guides me through making my work more perfect. She has lots of great ideas.
How did you meet?
When I was 17 years, I went library to gather information for an art class. I saw her in the library and saw this beautiful girl. I fell in love at first sight. So I decided to draw her face and give it to her. On the pictures, I wrote my phone number and gave it to her. She messaged me 6 months later and we have been together ever since.
How do your styles differ?
I am mastering in Water color, acrylic colour, Oil colour, Pencil color, Airbrush etc Last 10 years I was into all styles of the painting. I am more into realism style and she has a more modern style.
What is your aspiration?
I've opened an art school in Male to teach art to students of all ages. My dream is to grow young artists and give them hope in the art world. We also help with displaying and even marketing their art.
Sheeneez…
How did you get started in art?
Sometime after we met, Shameen started a studio downstairs from my father's store. I started helping him with the studio doing backgrounds, and eventually he taught me more and more about painting.
Who are some of your favorite artists and influences?
Shameen (obviously!). We teach together at the resort and in Male. I also like Larssen who does lovely dolphins.
How did you meet?
I had just moved to Male and went to the library with a friend. Within 5 minutes, this young man introduced himself to me.
Which is your favorite piece done by the Shameen?
A modern painting with lots of colours which was his first painting. This one is very special.
Which is your favorite piece done by you?
I never painted a person's face with colour. So one day I decided to try it doing Bob Marley. I was very proud of it. I was surprised at how well it came out.