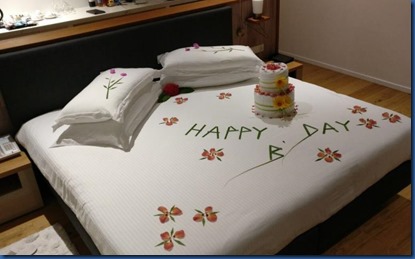 I wasn't quite sure what to call this recognition, but I knew I need to call out Kuramathi's exceptional touches to old fashioned relaxation. Kuramathi was the first resort that I ever posted for its distinctive bed-art marking. They have clearly made it a resort trademark, in fact taking it up a notch with the latest generation of bedroom artistes.
All of the creations shown here are the work of 24 year old room attendant Adam Naseer.  Kuramathi shared these details about his work…
"Adam has been working in another resort for about two years after he found out about Kuramathi on the internet and from some friends (who also work here) and decided to work for Kuramathi, this is now one year ago. He works at the Thundi area of the island and takes care of about 4 to 5 villas per day. His favourite part is decorating the bed or even the bath with towel art including flowers. It is his passion to make the guests happy and to see their smile on their face as he always receives a grateful feedback and the guests always want to have a picture with Adam and his designs. Mostly he likes to make heart shaped or honeymoon designs."
My favourite is his birthday greeting complete with towel birthday cake (see photo at top).
For a gallery of Maldives bed decorating masterpieces, check out the Maldives Complete "Bed Art" Pinterest board.