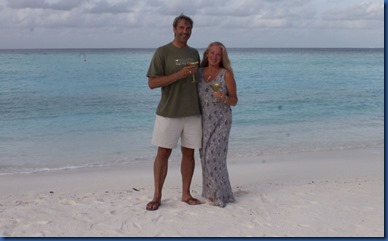 It's always great to finish a trip on a high, and LUX* North Male Atoll (LNMA) wasn't just a highlight of our 2019 Tour…it was one of the high points of twenty years of visiting the Maldives. Not just because it is an exceptional resort in its own right, and not because it represents so well the spirit of creative innovation that I celebrate in this blog with "Best of the Maldives" series that I research extensively on these trips, but also because it was in several ways a crowning culmination of the past ten years of Maldives complete – the 100th Maldives resort that I had visited (more on that milestone later in the week).
LNMA's sister property, LUX South Ari Atoll is one of the top holders of "Best of" distinctions (48, 3rd highest). So I couldn't wait to see what LNMA had in store. Of course, I spotted a number of familiar signature LUX* fun features right away like Phone Home, Message in a Bottle, and Café LUX. After over a decade of writing about the best and most distinctive in the Maldives (with over 1,400 written), it becomes all the more difficult to find things that haven't been done before. And yet, I found more potential (I always do a bit of follow up research) "Best Of's" at LNMA than the other seven resorts visited this tour (30 identified for them).
But LUX North Male Atoll goes beyond the collection of signature touches of flair and innovation. The entire concept and execution of the property is more striking in its ambition and execution than any of the other 100 I have seen. Its hyper-contemporary stylings are an Instagrammer's dream looking like something straight off the pages of Architectural Digest. If Jonathan Ive (of Apple fame) designed resorts, I would expect him to come up with something like this with its brushed concrete with burr wood highlights and textured finishes. Or perhaps Jean Paul Gaultier as the edgy, ultra-modern aesthetic (and its location venue in middle of the otherworldly destination of the Maldives) is what I imagine the Fhloston Paradise to be heading towards.
LNMA is the latest property splashing out the brilliant white palate for the villas (and, well, all its buildings). White is a central colour to the Maldives palette (along with palm jungle green and the ubiquitous tapestry of blue from sea to sky). The luminous hue of the coral sands, wispy clouds and waves crashing on outer edge of atoll. The Santorini-esque amplifies the brightness of the sunshine and make the whole place dazzle.
Some traditionalists poo-poo such modern constructions. I think they would like all of the Maldives to be fitted out with old-fashioned thatched huts like some sort of tropical Williamsburg. But fusion of modern with tradition, fabricated with natural, can meld the best of both with innovative new approaches. Much like LNMA's own Peruvian/Japanese fusion restaurant "INTI", blending two different worlds for an entirely fresh and unique new experience.
Design isn't just about scrumptious materials and artistic rendering. It's also about achieving satisfying function through inspired form. LNMA gets so right what so many resorts get so wrong – the view. Every single villa has a roof deck that provides that extra vertical dimension (in a locale defined by its very horizontality) of taking in the Maldives' stunning vistas. One of my biggest pet peeves with Maldives resorts is when they mess up a view, and one of the aspects I appreciate most is when they accentuate a good one.
My enthrallment with LNMA wasn't just because of its own dazzling aesthetic, but also because it exploded a few of pre-conceived notions I had…
Myth #1 – Male Atolls Are Not Remote: Being the eponymous home of the capital, the main airport, its busy port and a tight cluster of the some of the earliest properties, the image in my head was that the Male atolls are all a bit close to the action and to get truly remote you need to hop on a plane to a far-flung atoll. But cruising the 1 hour speedboat transfer to LNMA, I realized just how massive North Male atoll is. Halfway through the journey, there were hardly any islands in sight and I felt as removed from civilization as anywhere I had been in the Maldives.
Myth #2 – North Male Doesn't Have Great Snorkeling/Coral: Again, I think this myth stems more from the 20 minutes radius around Male where tourism began and the growth of construction and activity have certainly stressed those reefs, but out at LNMA, the house reef was the most vibrant with coral growth on any we have seen for years.
Myth #3 – Islands on Reef Shelfs Have Weak Snorkeling – I've always associated the best house reefs with the inner atoll gum-drop islands. I thought that the islands at the atoll's edge sat on broad plateaus where on one side the reef was inaccessible (with open ocean waves pounding on it) and on the other side far away and sloping without much drop-off. But LNMA's house reef starts a few feet from east water villa jetty and goes directly to the overwater spa jetty (conveniently marked with a series of red buoys) making it extremely accessible with as lovely a drop-off as you'll find.
These revelations of LNMA reminded me of my first visit to Singapore. My expectations were a bit apprehensive as reading about it, I feared that it might just be too contrived. I also thought that the slick aesthetic would probably be limited to a very contained and exclusive part of the city. But this urban metropolis wowed me. It wasn't just modern, it was space-age. It wasn't just glossy, but it was sensible and easy to take it. And it wasn't just certain neighborhoods, but the modern quality pervaded the entire urban landscape.
Some people will be mesmerised by the many viral photos of LUX North Male Atoll which seems to just epitomise luxury and they won't be disappointed. Others will be wary of its edgy aesthetic, but I they might just find that this spark of panache provides a bright new look at piece paradise tucked away on the remote edges of its namesake.