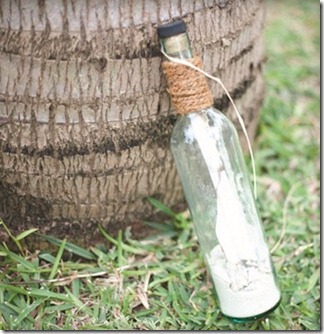 You might need a looking glass when looking for this glass. LUX* Maldives' 'Message in a Bottle' is one of the most creative and apropos touches to their resort experience I have come across.
LUX* hides bottles around the island with special messages inside. They even hide some in the lagoon underwater for snorkelers to happen upon.
First, the notion just conjures up exactly the mystique that permeates this tropical paradise. When describing the Maldives to someone who doesn't know about them, I say, "You know those pictures of a plot of sand with a palm tree in the ocean…that's the Maldives.' And if you were to think of one image on that empty, isolated island it would proabably be a message in a bottle. Either a shipwrecked soul sending out a rescue message or a lonely sole having one float to shore (typically as part of a punch line to some New Yorker cartoon).
The other prominent image for this exotic landscape is swashbuckling pirate adventure. When our children were young, one of the highlights was us organising a 'treasure hunt' on the island with a sequence of clues scattered around the island ultimately leading to a bag of sweets. At LUX*, my wife and I could just lounge by the pool and set the kids off in search of the elusive 'message in a bottle' lucre.
The messages all include a special treat for the luck treasure hunter. Best one is a free massage at the spa. Wait for it…'Massage in a bottle'