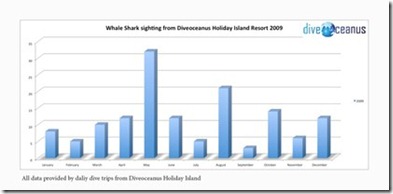 Perhaps the ultimate underwater treasure in the Maldives is a whale shark sighting. Most of the time, the biggest animal that you can see there. And a paragon gentle-giant docility and prehistoric charm. And number of spots are known hang outs for these elusive creatures who spend their lives in the depths unless they are feeding. Those locations (eg. Dhidhdhoo, Hanifru) are all protected by the Maldives as Marine Sanctuaries. While they are more prevalent in these places (and at certain times of the year), there are never any guarantees when it comes to mother nature.
The resort dive centre, Dive Oceanus, keeps and publishes detailed data on whale shark sightings (see above) which can also help to focus one's holiday timing and planning for the highest incidence and probability as well.
I have to confess that Lori and I were tinged with a touch of disappointment when our whale shark excursion this summer came up empty. Most South Ari resorts offer such excursions, but on specific days. If you really are obsessed with sighting one and want the highest odds possible, then Holiday Island (also located within the Dhidhdhoo Marine Sanctuary) offers daily excursions. They will even add extra trips for people if they request it. It might mean a lot of event-less boat rides for your holiday. But at least you will have given the effort you all. And the beautiful Maldives seascape makes for dazzling scenery as a consolation prize.