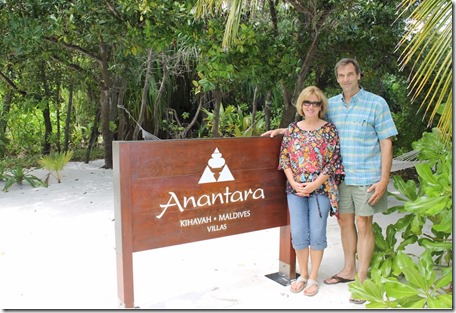 Mary Poppins of Maldives resorts. 'Practically perfect in every way.' That's Anantara Kihavah.
There are very few resorts that tick as many boxes as Kihavah does. Some islands are great, and some resorts are great. Finding great islands with great resorts on them is by definition rarer.
The crème de la crème resorts tick a number of key boxes for service, food, styling, etc., but the "Super Premiums" (aka "5+ Stars") take all of the criteria a step further. Not only that, but they also have one special, added requirement – the "wow" item. The "wow" is not just an abstract effect of quality and style, but it is a very tangible thing that is the first thing you brag about when you get home. In the Maldives, the most common "wow" is an underwater feature, but it can be something like a marine discovery centre or some other distinctive experience.
The Kihavah "wow" is its underwater "Sea" restaurant. In many respects, it surpasses the iconic one at Conrad. Conrad's Ithaa restaurant is in the lagoon, while Kihavah's Sea is perched on the precipice of its house reef drop-off. And what a drop off it is. Plunging straight down for 30 meters into the deep blue abyss. Novice snorkelers, unconfident swimmers, and of course land-lubbers don't usually get to experience the aquatic thrill of the reef drop off, but Kihavah's dining portal give it a drop-off everyone can experience.
And that's where the crème de la crème islands star. With a vibrant and easily accessible house reefs. Kihavah has a particularly fine house reef which you enter straight from the jetties. In addition to its reef, I was quite fond of Kihavah's modest size. I like the smaller islands that have an intimate and isolated feel to them. But the frosting the cake was Kihavah's dazzling circumambient beach. One broad, soft, white strip of sand that encircles the entire island. As my wife regularly reminds me, such beauty is not without effort and Kihavah takes considerable effort to groom and primp. But instead of beach defenses (like unsightly groynes and seawalls), instead Kihavah lets nature take its course and then each year they rebuild the section of the beach (typically by the pool) which gets eroded.
Kihavah scores more "outstanding" marks in more areas than all but a few places I have visited in the Maldives. No surprise that I came away from my visit with 19 new "Best of the Maldives" candidates.
A must candidate for any Maldives connoisseur.