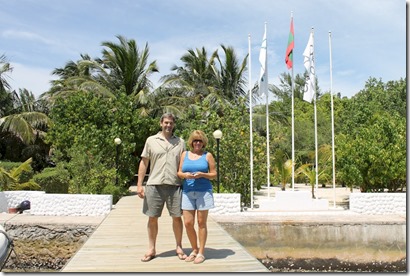 Classic Maldives. Classic in a nostalgic sense. Before the underwater laundry rooms, the Chateau Margaux oatmeal and the hydrofoil transfers, this was the standard fare for the Maldives that people came from around the world to savour. Simple villas with outdoor bathrooms and thatched roofs, sandy paths weaving through lush tropical growth, and the magic of the Maldives maritime just feet away. No Michelin star dining, but tasty food with classic local curries and grilled reef fish, fresh and served with delectable sauces, not tired or overdone. No butlers, but kind and friendly staff always willing the lend a hand or give a smile.
These days, legions of people don't even consider the Maldives for fears of mortgage busting prices. But in a few special properties such as Chaaya Island Dhonveli you can still relish paradise for a reasonable price tag. In particular its Garden villas are a relatively attractive option. Most 'Garden' villas on Maldives resorts are lower priced rooms reduced because they are tucked away in the inside of the island shrouded by foliage from any ocean view. But the Dhonveli "Garden" villas are right on the water for the most part.
Another budget buster for families are…kids.  Yes, in general, but more specifically bringing them on vacation.  Somewhat manageable when they are toddlers and resorts offer considerable discounts with them staying in your room.  Dhonveli offers a number of Family villas where children up to 12 can stay.  The fact is that most Dhonveli rooms have day beds as part of their furnishings and the resort has a considerable supply of beds it can wheel into rooms.  So most of their rooms could accommodate a child or two without having to purchase and extra villa if the resort is willing and able to accommodate.
Dhonveli is like that delectable vin de table you get served at a rustic auberge in the French countryside. It might not be vintage Petrus, but it slakes your thirst with unadulterated authenticity.
I came away from our visit with 4 Best of the Maldives pieces.