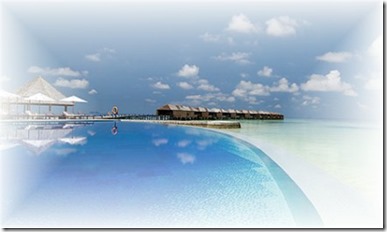 A sunny Bank Holiday Weekend was an inspiration to invest a bit of time on Maldives Complete and revamp the Best of Maldives section a bit. With now over 300 distinctions, I've had to add yet another tabbed page ('Service') to hold them all. I split out sub-categories in a few areas like adding a 'Sweets' section for 'Food' and splitting 'Drinks' into 'Soft' and 'Bar'. I added a new section called 'Workplace' distinctions since good management and workplace innovation are pet professional subjects of mine.
With more resorts with more distinctions than ever, it has never been harder to wade through the riches of choice to find the resort for your often once in a lifetime trip. The Sunday Times featured a piece a short while back on 'How to Pick the Perfect Resort', but it focused on skiing). I often get emails and other contacts from Maldives Complete fans looking for advice on choosing the best resort for them (there is no 'best resort', there is only 'the best resort for you'). I thought I would document the steps I often go through to help them winnow down the selection…
What's your budget? – Don't ever say 'Money is no object' in the Maldives unless you are a billionaire. This is the single most important question to ask to start with and will narrow your search significantly (resorts vary in cost from £1,000 per week to over £10,000).
Large or small island? – Some people prefer the intimacy of a place barely larger than a plot of sand and palm tree. Others prefer more to explore and more infrastructure to support a broader range of options and activities (islands range in size from 5,000 square metres to to over 2 million)
How important is off-beach snorkelling? – This is also known as the "House Reef" question. You can snorkel on any Maldives island. But real snorkelling afficionadoes eschew the limited fish and coral life of the sandy lagoons for the thrill of the 'main event'…house reefs that plummet from the shallows into deep open water where large schools of fish and forests of variegated coral fill the wall between land and ocean. The most active and enthusiastic snorkelers will often insist on a great house reef. Those who just want to try a bit of great snorkelling are happy with going on a few snorkel safari excursions.
Seaplane ride? – The resorts split roughly down the middle between (a) those that are a speed boat ride away from the main Male airport, or (b) those that require a seaplane transfer to a more remote atoll (81 out of 132 resorts are a seaplane ride away). The advantages of the the seaplane ride is that it opens up more resort options, but more importantly the trip can be an exhilarating experience in its own right. The birdseye view of the mottled blue tapestry of island, reef and ocean is almost like visiting another planet. The disadvantages of the seaplane include…

Extra cost – Typically about $500 round trip.
Extra time and logistics for the transfer – Especially on the return leg where the resorts need to book lots of extra time into your transfer to make sure no weather delays have you miss your plane.
Noise – You can't even talk to your seat mate the small turbo props are so loud in the cabin (ear plugs are standard issue on all flights to reduce the irritation).
Fear of flying – You pretty much had to get on a plane to arrive in the Maldives in the first place (unless you are on a cruise stop), but nervous flyers who can just about handle jet planes can find smaller planes a bit to unsettling.

Children? – Some resorts actively cater for children. Other resorts (or sections of them like their water villas) actively discourage them (or a few even prohibit them).
All Inclusive? – Some people prefer 'all inclusive' plans so they know what total costs they are on the hook for and don't have to keep track of the extra charges that they are racking up. (38 out of 132 resorts offer all inclusive).
Pool? – While the resorts are ostensibly surrounded by the world's biggest swimming pool, an actual pool is often appealing to some for lounging, refreshing, exercising or playing. We often found that the children could only take so much irritation from the salt and sand of the beach and preferred spending a chunk of time at a more sanitised pool environment (86 out of 132 resorts have pools). [ADDENDUM October 2020] In my first post, this comment referred to a common area resort pool, but a decade later, pretty much every resort has a main pool so this is no longer a distinguishing feature. What is a distinguishing feature is whether you want your OWN private pool at your villa. This villa feature has skyrocketed in popularity to the point that fully half of all room categories now include a private pool.

Any favourite activities? – The old myth (and mystique) about the Maldives is that there is nothing to do. Now with over 120 resorts, there is something for everyone and virtually every activity and pastime are catered for. If you have a particular interest or hobby like kite surfing, painting or cigar smoking, finding the resorts that offer these will get you right to a short list of places that will offer these special treats for you.
The answers to the first 6 questions typically will get you down to a manageable shortlist through the Maldives Complete Resort Finder. From there people use question 7 as a tie breaker or just surf the Maldives Complete Profile section to see which property most captures their fancy.