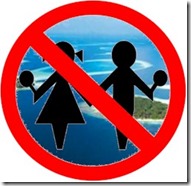 Not "Adult" resorts as in "adult entertainment" (a la Jamaica's Sandals), but more as in "grown up".
While my vision of "Maldives for Families" (not just for honeymooners and divers) is becoming more and more the standard every day, some people prefer a tropical tranquillity not only removed from the hustle-bustle of every day life, but also segregated from the rambunctious energy and squeals of excitement that come from the younger set. With all of the resorts in the Maldives, there's something for everyone. And there are resorts catering to a more mature vibe. Specifically, my "adult resort" list includes…
Komandoo – No under 18s
Veligandu– No under 18s (until May 2018)
Finolhu Villas – No under 18s
Anantara Dhigu – No under 18s (though under 18s from Naladhu and Veli welcome at times)
Robinson Club – No under 16 (from November 2017)
Hurawalhi– No under 15s
Centara Ras Fushi – no under 12s
Milaidhoo – No under 9s
Baros – No under 8s
Drift Thelu Veliga – No 3-10s
Some resorts also have opted for a hybrid solution making certain parts of the property limited to adults…
Vilamendhoo – Part of the island reserved for adults and another part that caters to children. Each has their own pool so that you can choose between splashing frolics or romantic pina colada 

sipping,

LUX South Ari Atoll – 'Adult Sanctuary' section of water villas.
Sun Siyam Irufushi – Separate pool for children and an adult-only pool.
Kuredu – Adult-only half (branded "Sangu" and "O" resort).
Summer Island – No under 15s in water villas or overwater restaurant.
W Retreat – No under 5s in water villas
Meeru – Adults only areas including Jacuzzi Beach Villas, water villas, Pavillion pool bar.
Finally, most water villas have constraints on children and some resorts (eg. Veligandu) have adult-only rooms.
Of course, you can always filter for your "maturity" preference with the Maldives Complete Finder.