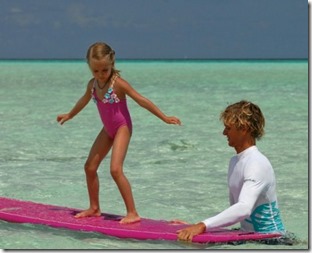 Probably the two most unsung appeals to the Maldives – children and surfing.
A number of the items from my last recent "Haven't Seen" came from a Sunday Times Travel feature "Tantrums and tasting menus: meet the minigarchs" (eg. swim with a mermaid, 8-course child's tasting menu). Before I even had a chance to include "surfing for kids" in the latest list, Four Seasons Kuda Huraa announces its own mini-Malibu offering…
"The Maldives has a reputation for mirror-calm waters, but is also home to some thrilling surf. Little Keanus can sign up for lessons at the Four Seasons Kuda Huraa, where even if they prove rubbish at it, they won't miss out on the ride. Instructors will paddle out with the child on the front of their board and, as a big one breaks, pick them up and hold them in surfing stance so they can ride the wave back to shore."
Going off for gidgets and dude-inos.