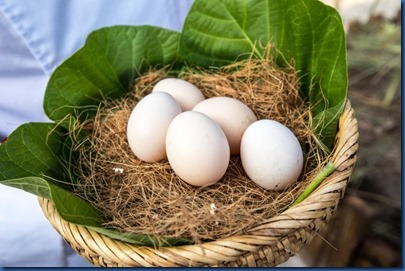 If the Easter bunny is looking for the best eggs for tomorrow's baskets, he might want hop on by Six Senses Laamu. Yes, April Fools is tomorrow, but this announcement, "Six Senses Laamu Crafts Out-of-the-Ordinary Experiences on Land and Underwater", came out last week so it appears to be legic (thanks Paola):
"The latest crafted experiences from the resort comes in line with two other Six Senses values of sustainability and pioneering wellness. This time the newest arrivals to the island are a flock of 24 chickens from two neighbouring islands, and their reservation at the resort is made for a long stay. Before their arrival the flock was vetted by Raymond Rochester, a guest and visiting veterinarian. They were given a warm welcome by the resort hosts and upon arrival, in line with guests experience, they are assigned a Chicken Guest Experience Maker (Chicken GEM) available to help make their stay comfortable. Their accommodation is located at the newly built organic Kukulku Farm. Kukulku is the word for chicken in the local language of Dhivehi…Resident Manager Frans Westraadt along with Sustainability Manager Megan O'Beirne supervised the preparation of the Kukulhu Farm. It includes a state-of-the-art chicken gym facility, a multi-level installation with terracing steps for exercise sessions and handmade nests that follow the fundamental philosophies of the Sleep With Six Senses programme."
One of my favourite egg-cellent press releases of all time.