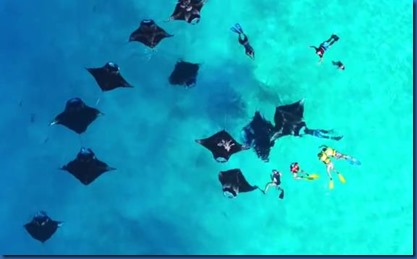 Mantas at Hanifaru Bay, Baa atoll
Most visitors to the Maldives was to just switch off and that includes all the stress inducing electronic devices, but at Four Seasons Landaa Giraavaru you just might look forward to that phone ringing in your room. If it is their signature "Manta on Call" service.
"Sign-up for this thrilling adventure, that sees you contacted wherever you are in the Resort and whisked away by speedboat to snorkel with these elusive gentle giants"
Creatures in the wild sort of follow their own whims and there are never any guarantees of seeing the critters you want to see when you want to see them. Even in a place like Baa atoll renowned for its population of Mantas (and even the occasional whale shark. That said, even Baa Atoll or the even more confined Hanifaru Bay part of the Baa, is a big place and the mantas could be anywhere. You can spend (and we have spent) an entire day just trawling around in the dhoni looking for signs of mantas. That is why Landaa keeps in regular contact with dive boats through the day to keep updated on the latest manta sightings. If a large group has decided to collect at some point, the resort calls your room and can have you on a speedboat in minutes to take you to the gathering so you can enjoy a view of these majestic animals and even join them for a swim.