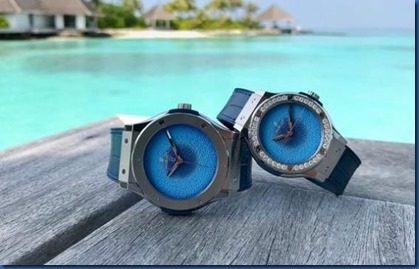 Daylight savings time starts today. And you will have to save up for hours to afford the latest item in the Cheval Blanc gift shop (or if you are totally loaded, maybe you will just buy a new watch instead of all the kafuffle of adjusting your current one an hour. At $32,500 for its latest Classic Fusion Cheval Blanc Randheli Special Edition, that $9 per second.
Really, this post is more of an update to my previous Best of the Maldives piece for Cheval Blanc's watch offering. I could have just made a note in the comments, but I love the concept so much of capturing the distinctive aesthetics of this corner of paradise that I thought that I would publish a full post.
"Designed to embody a trip to the resort, the Classic Fusion Cheval Blanc Randheli Special Edition watch features the same varying shades of blue that are waiting to be discovered in the surrounding ocean. Parisian artist Vincent Beaurin, designer of the signature works of art at the Cheval Blanc Maison in the Maldives was commissioned to help create the unique dial using sand. 'Just like the blue waters surrounding Cheval Blanc Randheli, the captivating blue tones of the two new timepieces dedicated to the Maison create an appealing aura on the wrist, offering wearers a new experience with time,' said Ricardo Guadalupe, CEO of Hublot. The Classic Fusion Cheval Blanc Randheli Special Edition is available in 45mm and 38mm versions with brushed metal cases and blue crocodile straps. The smaller version also features a halo of crystalline stones on the bezel. Both watches can only be purchased at the Cheval Blanc Randheli Concept Store, situated within the resort's dedicated Hublot area."
That said, Chopard hasn't rested on its design. In fact, it even has a Happy Fish Sport design with Anemone Fish for one-fifth the price.