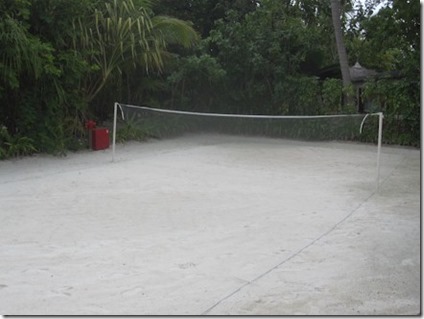 While it's called 'Beach' Darts, it's actually set inside the island underneath of copse of shady palm trees. Admittedly, it's a bit of semantic pedantry since in the Maldives, everything is 'Beach', inside and out. Not just the inside of the island, but even many of the buildings of the best resorts have talcum-soft sand floors.
Not only does the inner island setting keep the sun out of your eyes, but it also shields the match from ocean breezes. Another 'inner beach' sport is 'Beach Badminton'. I've come across a few set ups on the proper beach, but Kanuhura has set up on inside for the same protections. The feather-light shuttle-cocks are even more susceptible to breezes which makes the setting superb.
Furthermore, Kanuhura offers other bonus features. First, the ground chosen is a good balance between firmness so you can move easily and soft layer of sand so you can play comfortably in bare feet. Second, the boundaries are marked off with fixed lines to regulation size so you can play a proper match. And finally, Kanuhura offers a badminton player on staff who can provide both a worthy opponent or some instruction.
Smash!